Brett "the Ratt??? Romnes of I Am the Avalanche
Hi, my name is Brett "the Ratt" Romnes, and I am the drummer and producer for I Am The Avalanche. I am not sure exactly where and when my musical journey began because when I was quite young my grandmother started teaching my sister and I the piano, but I was more interested in other things.
The first time I actually played any sort of percussion was probably because of my sister. She joined middle school band, and I thought she was cool so I joined too. I remember they tried to get me to play the tuba, but I insisted on playing the drums since there were obviously no tuba parts in any Nirvana or Alice in Chains songs.
Most of my technique is due to being in band at school. I was blessed with an amazing marching drum instructor and band instructor in high school who would push me to play complex rudiments and read passages that seemed like ancient Egyptian hieroglyphics at the time. Now, more than ever, I appreciate the camaraderie and dedication that these two instructors gave me. I don't necessarily add complex rudiments like cheeses and butterflies into the music I create now, but it is what helped get my independence to where it is. Advertisement
My obsession with building up a broad music collection over the years is what ended up developing my personal drumming style. I started trying to emulate the drummers from my favorite bands—Neurosis, Saves the Day, Vision of Disorder, Cave In, Oasis, Machine Head, NoFx, the Melvins, MxPx, Converge, Soundgarden, Ministry, Clutch, Weezer, Nine Inch Nails, the Descendents, Rancid, Tool, Hot Water Music, and countless others. I learned their fills, tricks, and transitions, and added them to my portfolio. I have tried to meld ideas from all of these great alternative, pop, punk, hardcore, and metal drummers together into my own style of playing.
I was, and still am, obsessed with seeing live bands. I would go to shows at least once a week for years and years—everything from local house gigs to arena shows. Having toured for almost ten years now, I know that there isn't much that compares to the high that you get from playing live.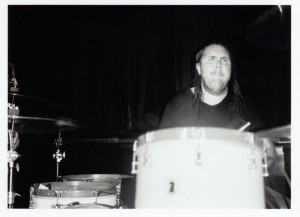 It wasn't until joining a band that I actually felt that I became a musician. Great songs are what we musicians strive to create, but quality songs do not come about without sacrifice, hardship, and dedication. From my point of view, a song isn't just about how many drum fills, guitar solos, bass slaps, and high vocal notes you can cram into three minutes; it's about creating the story and putting the listener in the same emotional place you're in performing the music. It's about creating a cathartic experience or a joyous celebration. Advertisement
Along with being a drummer, I am also a producer, engineer, and music instructor. I have produced and engineered projects for artists, including Anthony Raneri, Jimmy Gnecco, Chad Smith, and Ours, and I'm very proud of having produced the last two I Am The Avalanche albums, including our latest, Wolverines. As an engineer, I think of myself as a scientist using a microscope to discover what makes the drums groove just right. As a producer, I consider myself to be a coach, helping the performer get to a special mental state where they can best convey the perfect mix of emotion and technique through their music. As a teacher, I find pure happiness helping guide young musicians along their own personal musical journey. Every session I spend in the studio I always learn something new as well. I pick up a lot of ideas, fills, and beats from the musicians that I produce and teach.
To sum up, I completely believe that being a musician is a constant and never-ending learning experience with no boundaries and no single pinnacle. Whether you pick up an instrument and start a band in your bedroom or go to Berklee School of Music for eight years to study experimental Zappa-esque acid-jazz, I do believe that the journey a musician embarks on is a lifelong one. I am very grateful that I am able to dedicate my life to that journey.
For more on Brett "the Ratt" Romnes, visit iamtheavalanchenyc.com, facebook.com/iamtheavalanche, twitter.com/iatanyc, and instagram.com/iamtheavalanchenyc.
Photos by Julian Gilbert