Brian Nevin of Big Head Todd and the Monsters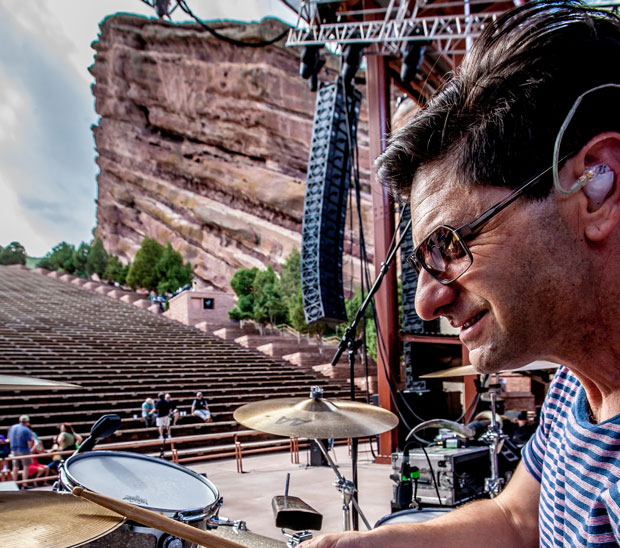 Yo, Modern Drummers, greetings from the Rocky Mountains. The new Big Head Todd and the Monsters release, Black Beehive, came out this past February 4. It was recorded in a one-room studio in five days. (Thanks to Maxwell's Drum Shop in Naperville, Illinois, for the vintage gear.) The goal was to make a record that represents what's best about our band, four guys in a room making music together. Live takes without much fuss.
For those not familiar with my band, Todd (singer, guitar), Rob (bass), and I started playing together in high school, forming Big Head Todd and the Monsters while attending the University of Colorado. I celebrate the fact that I've been playing in my high school garage band for thirty years! While I've had some formal training, my education has primarily been the result of playing with Todd and Rob and studying the playing of other drummers. For me it's all about finding my voice.
With Black Beehive, which is our tenth studio recording, I had the chance to work with one of my drum heroes, Steve Jordan. Steve solidified in me the understanding that great drum parts stay out of the way and help the song feel great, fueling my curiosity about how much can be done with less. It's all about the vibe. Advertisement
2014 will be a busy year of touring for us, I look forward to seeing you on the road and hope you enjoy Black Beehive, my favorite Big Head Todd record.
For more on Brian Nevin and Big Head Todd and the Monsters, go to bigheadtodd.com. Photo by Jim Mimna.