Legendary Jazz Ensemble M'Boom Re:Percussion Reuniting for a Special Concert on June 14, 2014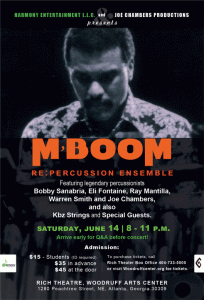 M'Boom Re:Percussion, the legendary ensemble featuring a multitude of drummer/percussionists that was assembled and founded by jazz master Max Roach in the 1970s, is reuniting under the leadership of original member Joe Chambers for a special concert featuring the KBz Strings and special guests.
The concert will take place at the Woodruff Arts Center's Rich Theater, 1280 Peachtree St. NE, Atlanta, GA, 30309 on Saturday, June 14, 2014 at 8 pm. Tickets are $35 in advance, $45 at the door, and $15 for students and can be purchased at Rich Theater by calling (404) 733-5000 or online at Woodruffcenter.org. A question and answer session will take place prior to the show.
First assembled by NEA jazz master Max Roach in 1971 in order to showcase the percussion family's wide range of musical capabilities, M'Boom Re:Percussion initially brought together a half dozen jazz drummers, including Roach, Joe Chambers, Freddie Waits, Roy Brooks, Warren Smith, and Omar Clay, to perform in tandem on an expansive array of percussion instruments. The group's 1973 eponymous debut recording added Latin percussionist Richard "Pablo" Landrum on congas and bongos in the chair that is currently held by longtime band member Ray Mantilla. Advertisement
One of jazz's most versatile veteran multi-instrumentalists, Joe Chambers has appeared with many forward-looking artists, including Joe Henderson, Andrew Hill, Freddie Hubbard, Bobby Hutcherson, Sam Rivers, Woody Shaw, Archie Shepp, Wayne Shorter, and McCoy Tyner. A leader in his own right, Chambers has recorded a host of critically acclaimed albums, from his debut date, The Almoravid, to his most recent Grammy-nominated recording, Joe Chambers Moving Pictures Orchestra Live At Dizzy's Club Coca-Cola. While well known for his impressive skills as a drummer, Chambers is an equally talented vibraphonist and composer, roles that will be showcased in this special concert.
M'Boom Re:Percussion features Chambers and fellow original member Warren Smith, with longtime colleagues Ray Mantilla and Eli Fountaine and the ensemble's newest constituent, multi-Grammy Award nominee Bobby Sanabria. Collaborating with the group will be the KBz Strings, under the direction of Kerren Berz, the accomplished violinist and current Concertmaster of the Columbus (GA) Symphony Orchestra. Berz has performed with the Atlanta Symphony, the Harlem Festival Orchestra, and the Nashville Chamber Orchestra and has shared the stage with musical legends Ray Charles, Sarah Vaughan, Stevie Wonder, Rod Stewart, and Joni Mitchell. KBz will be joined by special guests Atlanta multi-reedist Howard Nicholson and bassist Edwin Williams.
This special concert will feature a multifaceted program from M'Boom's repertoire, including Omar Clay's "Onomatopoeia" and Warren Smith's "Elements Of A Storm: Thunder & Wind" (both from the group's first album). Bobby Hutcherson's "Poema Para Ravel," Chambers compositions "Gazelle Suite," "The Gauntlet," and "Samba de Maracatu," and an arrangement of the Janet Jackson's pop hit "Come Back To Me" will also be included. Advertisement
All tickets are subject to 8% sales tax and service charge. Orders are final with no refunds.
For more info, visit Woodruffcenter.org.