Lee Ritenour Announces All-Star Judges For 4th Bi-Annual Six String Theory Competition
Vince Gill, Keb' Mo', John Patitucci, Marcus Miller, Dave Weckl, Harvey Mason, Dave Grusin and Patrice Rushen Among Musicians Serving in Categories of Guitar, Bass, Piano/Keyboard and Drums
REGISTRATION REMAINS OPEN THROUGH MAY 15, 2014
 TOTAL PRIZE PACKAGE VALUE OVER $600,000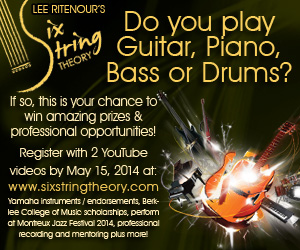 Legendary GRAMMY® winning guitarist/producer Lee Ritenour has announced the stellar list of musicians assembled as judges for the 4th Bi-Annual Six String Theory Competition.  The competition which debuted in 2010 with the release of Ritenour's all-star guitar recording SIX STRING has become a highly anticipated staple for aspiring musicians of the guitar, bass drums and piano/keyboard, providing them with professional and recording opportunities, educational scholarships, mentoring and prizes.
The panel of judges are as follows:
Guitar:
Country                    Vince Gill, Brent Masen
Jazz                           Pat Martino, Pat Kelley, John Scofield, Julian Lage, Jay Graydon Richard Smith, Frank Potenza, Larry Baione
Rock Fusion             Guthrie Govan
Rock                          Steve Lukather, Joe Satriani, Daryl Stuermer, Tomoyasu Hotei
Rock, Blues              Joe Bonamassa
Blues                         Keb' Mo', Sonny Landreth
Acoustic                    Don Alder, Andy McKee
Classical                   William Kanengiser, Scott Tennant, John Dearman, Andrew York, Kimberley Perlak, Matthew Greif
Bass:
John Patitucci, Nathan East, Marcus Miller, Abraham Laboriel, Melvin Lee Davis, Tom Kennedy, Victor Bailey, Leland Skylar
Drums:
Dave Weckl , Harvey Mason, Oscar Seaton, Simon Phillips, Sonny Emory, Will Kennedy, Chris Coleman, Gary Novak , Leon "Ndugu" Chancler, Abe Laboriel Jr.
Keyboards/Piano:
Dave Grusin, Patrice Rushen, Alan Pasqua, John Beasley, Otmaro Ruiz, Larry Goldings, Daniel Jobim, Jesse Milliner
Registration remains open through May 15, 2014. Applicants register by submitting two YouTube videos via the website, www.sixstringtheory.com.  For Guitar, applicants may register in the genres of rock, blues, jazz/fusion, acoustic, classical/flamenco and country.  For Rhythm Players, any contemporary music style will be accepted including jazz, fusion, R&B, rock, blues, etc. Advertisement
Partnering with Yamaha, Berklee College of Music, Montreux Jazz Festival, Blue Note Tokyo, Crown of the Continents Guitar Workshop and Festival, Monster Products, Premier Guitar, Jazz Monthly, Music Connection, Concord Records and D'Addario, the Six String Theory competition continues to grow and for 2014 offers a total prize package value of over $600,000.  The four grand prize winners (one in each instrument) will get to perform multiple jam sessions at the 2014 Montreux Jazz Festival and the Six String Theory guitar grand prize winner will also perform with Ritenour during his concert at Montreux, to be filmed in HD. Additional prizes awarded include four Berklee College of Music scholarships, Guitar finalist to record on Ritenour's forthcoming 2014 Concord album and a shot at a Concord Records deal, plus Yamaha instruments and endorsements, Crown of the Continent Guitar Workshop & Festival Scholarships and more.