KoSA Cuba's 2014 Percussion Workshop & Havana's Drum Festival 'Fiesta del Tambor'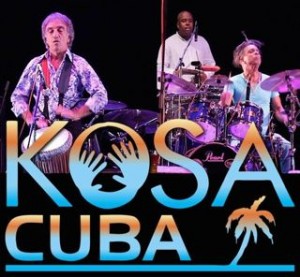 KoSA Cuba held the 12th edition of its annual Cuban workshop and festival this past March 9-16. The program's itinerary featured informative classes, hands-on lessons, and "jaw-dropping" musical performances by the KoSA Cuba faculty. New this year, KoSA's director, Aldo Mazza, and the Fiesta del Tambor's organizer Giraldo Piloto, welcomed Jojo Mayer.
The week started with a conference and introduction to Cuban music by ethno-musicologist Dr. Olavo Alén. Dr. Alén gave a presentation on the history of Cuban music, its many expressions, and the cultural meanings associated with each. Other educational clinics featured percussionists such as former Chucho Valdez drummer Juan Carlos Rojas; Rodney Barreto, Valdez's current drummer; conguero Tomas "El Panga" Ramos; timbalero Amadito Valdés; and Jose Luis Quintana, better known as "Changuito", famous for his work with Los Van Van.
The nightly concerts included the 50th anniversary gala of the Egreem record label featuring such legends as Buena Vista Social Club's singer Omara Portuando. Well known dance companies such as the Alicia Alonso National Ballet Company and the Havana Compas Dance also performed during the week. Jojo Mayer was featured in concert during the festival and was on hand to give a clinic to the Cuban percussionists in the workshop. Additional classes during the week were taught by the two Klimax group percussionists Jean Roberto Figueroa and Julio Lopez. Advertisement
KoSA's hotel for the event, The Havana Libre, featured music every night including special concerts by Juan Formell and Los Van Van, Alexander Abreu, and Manolito Simonet. The final festival concert featured the finalists in the drumset, congas, and bata drum competitions and a special performance by Giraldo Piloto and his band Klimax.
KoSA Cuba 2014 Festival was sponsored in part by Sabian, Gon Bops, Evans, ProMark, Regal Tip and KoSA Music. Dates for the next KoSA Cuba Workshop & Havana Rhythm and Dance Festival (Fiesta del Tambor) are March 1-8, 2015. For more information, please visit www.kosamusic.com