Mastodon
Live at Brixton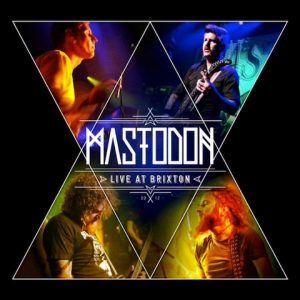 On February 11, 2012, Mastodon played a sold-out show at London's O2 Academy Brixton. It was the band's largest headlining concert to date, with the nearly 5,000 in attendance privy to a metal event for the ages. Luckily, the group had the foresight to capture it all on film, and now it's being released as a digital-only product.
True to its extinct namesake, Mastodon takes the stage with a massive sonic footprint, stampeding through a twenty-three-song set list with no banter between tunes or copious amounts of dead air. This old-school-punk approach of quick transitions makes for nearly a hundred minutes of a pure, face-melting live music.
Drummer Brann Dailor leads the charge, executing his perpetual-motion style with scary precision. Dailor's hand combinations and smooth singles are the foundation of his playing, à la Nicko McBrain or Phil Collins, which is less customary in metal than the usual bombardment of double bass. His hands never stop! A constant stream of singles and doubles flows naturally, and Dailor often punctuates the guitar lines with quick accents between the snare and cymbals.
Playing coast-to-coast fills past the barline is another staple of Dailor's style that contributes to Mastodon's signature sound. Even during the band's more "laid back" grooves, on tunes like "Curl of the Burl" and "Black Tongue," Dailor's left hand is ghosting 16th or 32nd notes during grooves. But that's not to say that his feet aren't getting a workout. Brann uses a lighter touch during steady kick patterns to form an almost subliminal bottom layer, and he boosts his attack on shorter bursts to cut through the mix. In any case, his busy playing is very dynamic and works perfectly within the context of the music. Dailor is one of a very few drummers whose style fits their band so well that it's seemingly irreplaceable. (Warner Bros.)