Jim Dudash of the Krypton Monkeys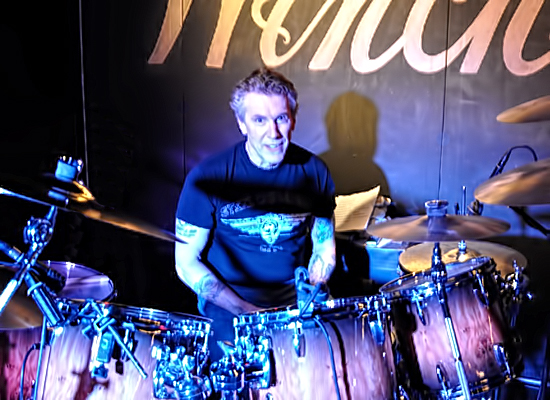 Hi, my name is Jim Dudash, and I am the drummer for the Krypton Monkeys, a recording act from Cleveland, Ohio. We released our debut CD, Crush, in November 2013. The style of music is a mix of progressive, big hair, and '80s music.
Playing in this band offers a unique challenge in that we have backing tracks when we play live, so I play with a click track. Instrumentally, we are a three-piece band—guitar, keyboards, and drums. Our bass lines are prerecorded by our keyboard player and are part of the backing track.
Being the only band member listening to the click gives me the responsibility of keeping everyone in sync with the track. Straying from the track even slightly can lead to disaster, so even during rehearsal I play to the click. Advertisement
I've been with the band for three years now and have become very comfortable playing with the click, which helps me immensely in the studio. I am comfortable enough to do some improvising, but within the predefined structure of the song. I try to avoid taking too many chances—just enough to make it interesting.
Some people have a problem with bands that play with backing tracks. For us, it was out of necessity. Our bass player left us, and we couldn't find a suitable replacement other than John, our keyboard player. Seeing as how he can only play one instrument at a time, our solution was to record him on bass and let him play keyboards live. It has worked out well for us and has allowed us to tighten our show to a level much higher that before the click track.
Individually and collectively, the Krypton Monkey band members have provided support to some of the biggest names in rock, opening up for Peter Frampton, Thin Lizzy, Foreigner, Pat Benatar, Blue Oyster Cult, Joe Walsh, Jefferson Starship, Grand Funk Railroad, Guffria, Humble Pie, Jason Bonham, and REO Speedwagon. Advertisement
We're currently working on new original material, as well as covering a few songs with our own spin. Thanks for reading, and keep on drumming.