Francesco Lucidi of Anna Phoebe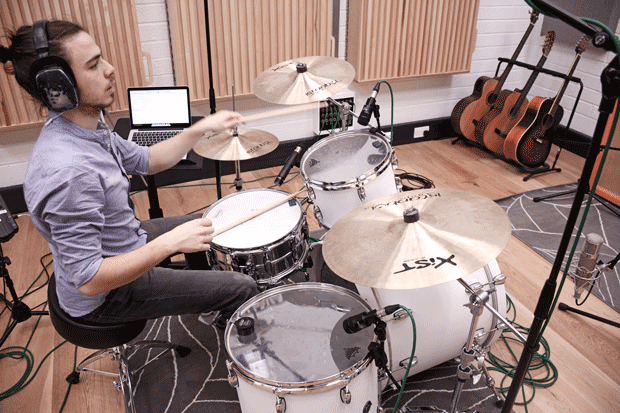 Hi there, Modern Drummer readers. My name is Francesco Lucidi, and I currently handle all the drum duties for Anna Phoebe and Jurojin.
I started studying drums at the age of thirteen and soon realized the importance of music in my life. This led to intense studies under respected teachers in Italy. Over the course of my teenage years I won three international competitions conducted by the popular Italian drum magazine Batteria & Percussioni, and eventually received a scholarship in 2010 to ICMP (Institute of Contemporary Music Performance) in London, where I continued my music studies.
I started to work with Anna a few years ago. She toured the world as a soloist violinist and as a guest with such artists as Oi Va Voi, Jethro Tull, Roxy Music, the late Jon Lord, and Trans Siberian Orchestra. She has developed a reputation for stunning live performances.
We launched an EP in November 2013, and we will be releasing the full-length album Between the Shadow and the Soul this June 23rd. The EP stream link can be found at http://snd.sc/16srPox.
For more about Francesco Lucidi, visit his YouTube channel at youtube.com/user/Fraska5.
For video footage from the upcoming Anna Phoebe album, Between the Shadow and the Soul, look below: