EUPHORIA Celebrates the Music of Composer/Drummer Chico Hamilton In Monthly Concert Series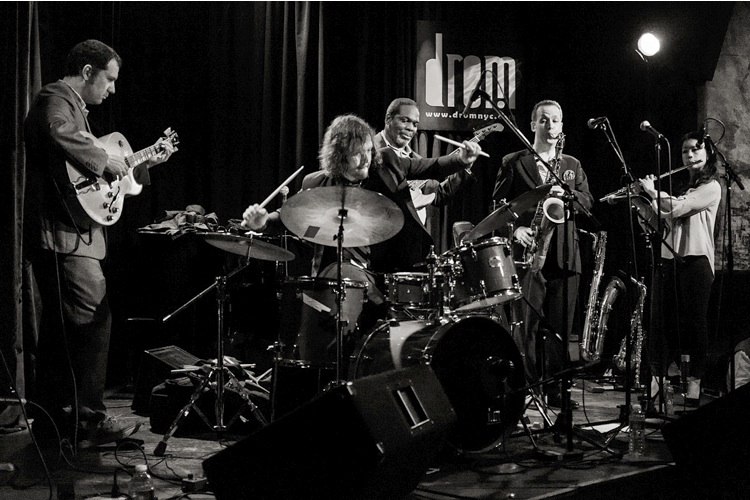 Marking his 65th CD and final in-studio recording session, NEA jazz master and legendary composer/drummer Foreststorn "Chico" Hamilton (1921-2013) shares his highly anticipated posthumous album The Inquiring Mind (Release Date: 2.25.14). Featuring his long-time quintet EUPHORIA, this 19-track album includes newly composed material that embodies Chico's remarkable high standard of musicianship, groove and consistency.
Recorded at the age of 92 during his final weeks in the Fall of 2013, The Inquiring Mind captures the best of Chico's legacy. "Chico never skipped a beat. He composed and performed his last songs with just as much soulfulness and richness as he did with his first," explains Evan Schwam of EUPHORIA. "This album demonstrates that Chico himself is timeless."
Described as "one of the city's most buoyant combos (Time Out New York)," EUPHORIA has been digging into Chico's repertoire since 1989 and has built an undeniable chemistry under the direction of its veteran leader.  Five songs off of the recording are written by members of EUPHORIA; each indiscernible from Chico's own compositions (a testament to his prowess as a nurturing bandleader). Advertisement
From salsa to waltz to blues, The Inquiring Mind oscillates amongst varying musical styles, complex tempos and changing emotions. According to music critic Maxwell Chandler, "this album presents a catalyst for aurally induced reverie. A thousand thoughts, each a color which further paints a picture that is always compelling; emphasizing different aspects of itself with each listen. Chico continues to keep time in rhythm and emotion."
The leading tune "Joy of Spring" introduces a samba beat symbolizing the blossoming of a new season while the somber "Tone Poem" showcases Chico's signature churning of mallets alongside contemplative silence. Highlighting the CD is "Gateway to the Inquiring Mind" in which you hear the sweet, speaking voice of Chico ruminating on the nature of existence. Guest spots include: trombonist George Bohanon, who was a member of the Chico Hamilton Quintet with Charles Lloyd and Gabor Szabo in the early 1960s; and fellow NEA jazz master trumpeter Jimmy Owens.
In Concert:
Sunday, March 16 at 7:15 PM
Sunday, April 13 at 7:15 PM
Sunday, May 18th at 7:15 PM
Sunday, June 22nd at 7:15
DROM, 85 Avenue A (between 5th and 6th St.), New York, NY.
Tickets: $15/$12 Advance. To reserve, call DROM at 212-777-1157 or visit: www.drumNYC.com.
About EUPHORIA
The New York City-based quintet EUPHORIA celebrates the music of the legendary composer/drummer and NEA Jazz Master Foreststorn "Chico" Hamilton (1921-2013). EUPHORIA has been capturing the essence of Chico's spirit since its formation in 1989. It maintains its monthly concert series at NYC's DROM and has appeared on 15+ recordings with Chico.  www.joyousshout.com. Advertisement
EUPHORIA is comprised of Paul Ramsey (bass), Evan Schwam (saxophones, flute + piccolo), Jeremy Carlstedt (drums + percussion), Mayu Saeki (flute) and Nick Demopolous (guitar).
Photo by Glen DiCrocco.