Audio-Technica Posts Online Video Series Exploring Mic Techniques in Real-World Applications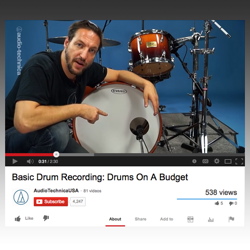 Audio-Technica has posted the first videos in a new series exploring different aspects of mic technique, mic placement and more. Utilizing some of Audio-Technica's most popular products – including 40 Series, Artist Elite®, 20 Series and others – these videos illustrate various tips and tricks for using mics in real-world applications. The first videos focus on recording basics (11 videos, including vocals, guitar and percussion), and drum miking techniques (11 videos) and can be viewed in two playlists on Audio-Technica's YouTube channel. More videos will be posted covering other topics in the future.
For more information, please visit www.audio-technica.com.