Mike Brennan ReverbNation/<em>Modern Drummer</em> Fantasy Camp Winner
Hi! I've been playing drums for thirty-four years and have been performing for almost that long. I started with playing drums in the high school jazz band. I've been teaching and writing method books for about twenty-five years; I taught in Santa Rosa, CA until the time I moved to Tucson ten years ago, where I've been teaching since.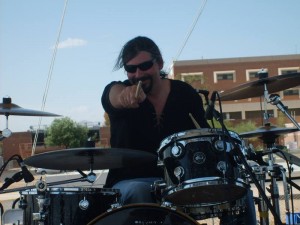 I graduated from PIT, at Musician Institute of Technology in Hollywood, CA, in 1987. I also took private lessons with Gregg Bissonette. To make the most out of my education in California, I was up at 5 am daily to practice rudiments and reading music. After school, I would go to a rented storage unit near the freeway where I could practice for as long as I wanted. Sleeping for five hours per day was the norm, as the only thing I did was fine-tune my music abilities. There were hundreds of drummers who started the year, of which less than fifty of us graduated. PIT was pretty intense!
Recently, I had another great learning experience. I entered a contest that Modern Drummer was having thru ReverbNation.com, where I was picked out of five hundred musician entries to go to the Modern Drummer Rock & Roll Fantasy Camp in Las Vegas, NV, for three days to jam and learn from some of the all-time greatest recording artists. For the past thirteen years, I've had guitar and bass in my playing and teaching repertoire too, so at this Fantasy Camp, I played guitar in the Denny Seiwell band. Advertisement
My newest endeavor in the music business has been writing and recording different styles of music in my studio, from theme songs and background music to complete (all instruments) songs.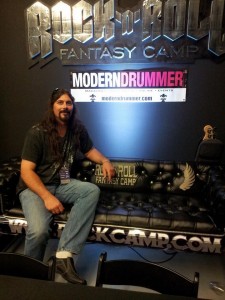 I have a few practice tips I'd like to share. Practice slowly, and let the music become part of you before increasing your speed. (If you practice fast, you won't last.) Practice how you're going to perform, don't practice while you're performing. Play for today, and practice for tomorrow. And always practice with a metronome or drum machine. I can guarantee if you can't keep a steady groove, you won't get hired for any kind of gig.
Lastly, here's my music tips for young players. Feel, timing, and control is the key to your success. Listen to as many different styles of music as you can, and work on copying the feel of those styles. Always know where beat 1 is. When going for an audition. play simple, listen to all the band members, and don't over play. Remember, it's not about you; it's about how great you can make the band sound. I was told this a long time ago, and I'll share it with you—flashy chops and a buck will get you a cup of coffee, but a steady groove will make you a great living.
I'd like to send special thanks to ReverbNation, David Fishof, Kevin Kearns, and Billy Amendola at Modern Drummer for making all this possible.
For more about Mike Brennan, visit bbMusicLessons.com, www.facebook.com/bbMikeLessons www.ReverbNation.com/bbMusicLessons, www.twitter.com/bbMusicLessons