Ben Barter of Lorde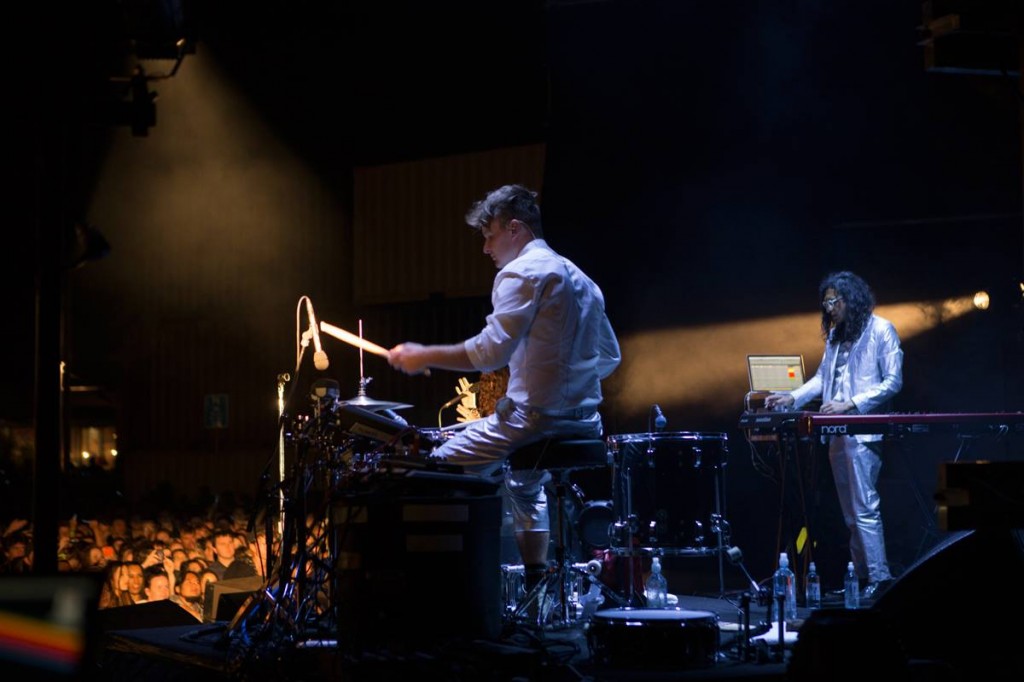 Hi MD, readers! I'm Ben, and I've been playing drums for Ella (Lorde) for almost one year now. It has been the fastest and most exciting year of my life. I've managed to tick many of my musical aspirations off in that year and have so many more exciting shows and travel ahead.
My first drumkit arrived when I was five. I'm extremely grateful to my parents who let me have a kit and play everyday in our house. I grew up in a big old wooden bungalow so there was no refuge for my parents and sister (including an entire block of neighbors) when I would practice. I wasn't the most tasteful drummer at that age, as not many of us would have been. Think sloppy Bonham fills and an oil-parched robot playing to Miles Davis's Kind of Blue.
I played in a jazz band with my parents for a few years growing up. The gigs were often quiet restaurants and cafes, so as a thirteen-year-old kid wanting to show off all his new chops to the world, they taught me a little about restraint. I would boldly start the set off with sticks, and then, after more than one disgruntled complaint from the old customers in front of my drums, I would end the last song timidly with my brushes as softly as I could manage. Advertisement
Fortunately, I met NZ drummer Michael Franklin Browne who taught me through high school. I learned all my fundamentals and jazz independence with Ted Reed's book, which helped, as well as some frustratingly hard Cirone snare solos. Michael was very smart. In my year eleven we would do thirty minutes of math before we would start drumming. I passed math! He gave me sound advice on the philosophy of being part of a band and how to fit in tastefully.
After high school I went to architecture school, as architecture has been a big part of my family. That lasted as long as I could be around for class—about two and a half years until bands got too busy. I worked in architecture firms between touring with a band called Kingston then played in two hip-hop bands, Kidz In Space and the Wyld. That's when I started using the Roland SPD-S with triggers on my kick and snare drum. Being able to add an electronic sample to the acoustic drums made the sound so much bigger and I could get the drums sounding just like the production. This was a factor that helped me get the job to drum for Lorde.
I play with my good friend Jimmy Mac on keyboards. He plays all the synth lines and triggers all the samples live. He's also a very good drummer, which is important, as his stuff is very percussive. I play with two Roland SPD-SX and a small acoustic kit with triggers and pads attached. We do as much as we can live and then, when we run out of arms and legs, the rest goes on a minimal track—mostly backing vocals, extra hi-hats, etc. Advertisement
Touring this past year has been such a blast. We have a small crew of really nice and fun people, which makes being away so much easier. Ella (Lorde) is amazing to work with and I feel so fortunate to play for an artist whose music I love and respect. It's even crazier to play for a seventeen-year-old who has just recently won two Grammys. At seventeen, I could successfully air drum to Blink 182's Take Off Your Pants and Jacket, so we all have our accomplishments in our own way.
I'm lucky enough to endorse Ludwig, Zildjian, Vic Firth, and Roland. Thank you for reading.
For more on Lorde, visit her Facebook page at facebook.com/lordemusic.