Rock Drummer Vinny Appice to Conduct Online Master Class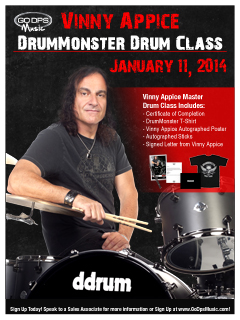 Legendary rock drummer Vinny Appice will conduct an online master drum class at GoDpsMusic on Saturday, January 11, 2014, 1 to 3 pm (PST).
Appice has powered the rhythm of bands such as Black Sabbath, Dio, Heaven and Hell, Ozzy Osbourne, WWIII, Axis, Rick Derringer, and Kill Devil Hill. He has been drumming across the world for over two decades and has co-written songs on over twenty-five records, many of which are multi-platinum. He is also the author of the instructional book Rock Steady and DVD Hard Rock Drumming Techniques.
Appice's class will cover solo techniques, songwriting, creating signature fills, memorable rock grooves, pedal techniques, warm-up exercises, and more.
Registration is available now for $49.98 and includes a two-hour live streaming online master class with Vinny Appice, live question and answer session, DrumMonster T-shirt, Vic Firth 5A Vinny Appice signed drumsticks, Vinny Appice signed poster, certificate of completion, and a letter from Appice. For more information, visit godpsmusic.com/info/Vinny_Appice.
The online master class is presented by GoDpsMusic and DrumMonster.