Product Close-Up: ddrum Paladin Walnut Speakeasy Drumset (From the February 2014 Issue)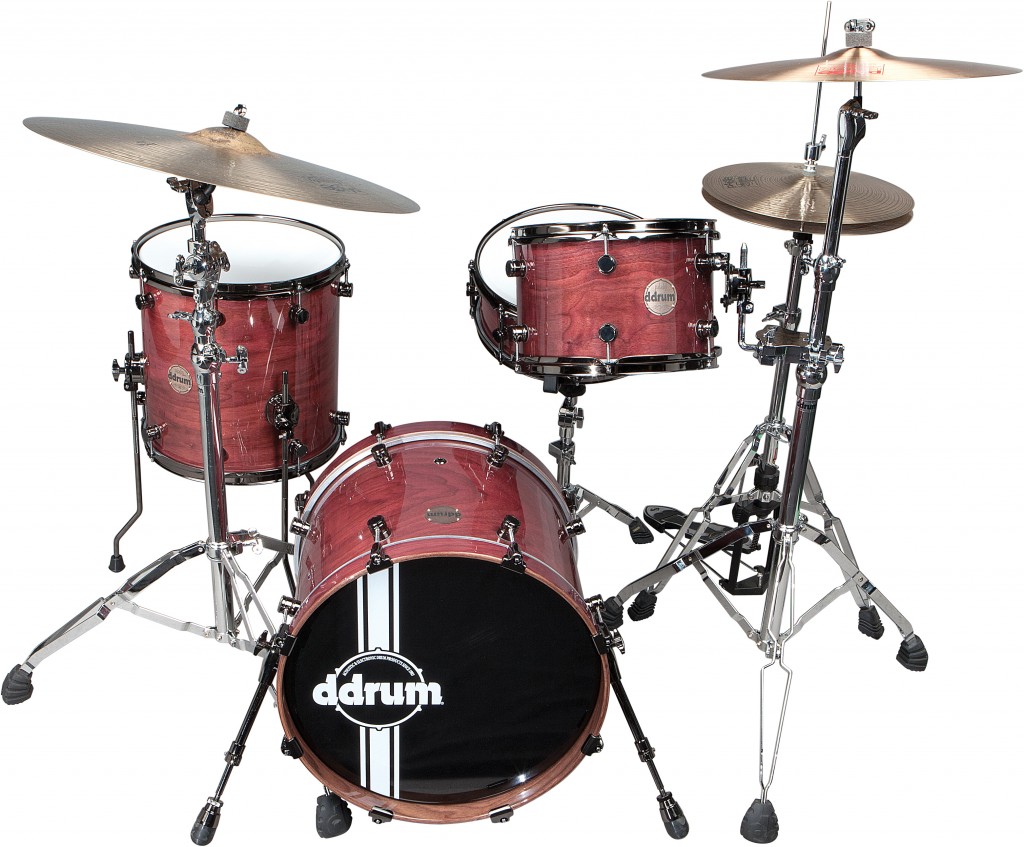 by Michael Dawson
When ddrum first arrived in the 1980s, it made only electronic drums and triggers and was owned by Clavia, the Swedish maker of Nord series keyboards and synthesizers. Ddrum was sold to Armadillo Enterprises—which also owns Dean and Luna guitars—in 2005, and soon thereafter the company began marketing various lines of American- and Asian-made acoustic drums.
The bebop-style kit we have for review is from ddrum's high-end-import Paladin Walnut series. The small four-piece configuration (14×18 bass drum, 8×12 and 14×14 toms, 5×14 snare) is known as the Speakeasy. The toms have 4-ply walnut shells. The 8-ply snare and bass drum are made from ddrum's Vintageblend shell, which feature two inner plies of poplar for added warmth and low end. The bearing edges are all cut to 45 degrees. Our review kit is finished in the nice ember red and comes with matching bass drum hoops and black-nickel metal hardware (2.3 mm rims, Fixtpitch tom suspension mount, Face-Off lugs, snare throw-off, floor tom legs, and bass drum spurs). The tension rods and tom arm are the only chrome components.
The Paladin Walnut Speakeasy kit came with Evans-made, ddrum-branded single-ply coated batters on the toms and snare, and a clear single-ply Evans-made bass drum batter that featured a built-in plastic muffling ring. The resonant heads on the toms and snare were clear, unmarked single-ply models, and the kick had a single-ply, premuffled black ddrum logo head on the front. Advertisement
For more on this kit, check out the complete review in the February 2014 issue of Modern Drummer.
Click here to listen to the kit at a tight tuning.
Click here to listen to the kit at a medium tuning.