February 2014 Issue of <em>Modern Drummer</em> Featuring Marky Ramone
(on newsstands January 7, 2014)
On the Cover
Marky Ramone
He's the original punk-rock drummer—but his career actually started years earlier, in the beloved proto-metal band Dust. And he's still as tough as nails.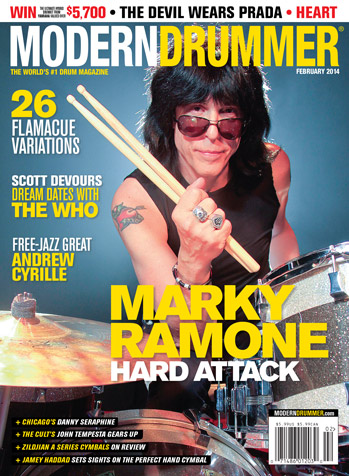 FEATURING
UPDATE
• The Devil Wears Prada's Daniel Williams
• Electronic DJ and drummer Robert DeLong
Woodshed – Mike Froedge's Open Sky Studio
The drummer/engineer's facility in downtown Atlanta stands apart with tons of atmosphere—and mountains of drums.
Encore – Heart, Little Queen
The passion and power of drummer Michael Derosier
Setting Sights – Jamey Haddad
Paul Simon's percussionist finds sonic solutions with a new line of Crescent cymbals.
Portraits – Squidly Cole
He's a link between old and new Jamaican sounds, touring with Jimmy Cliff as a teenager in the '80s and riding the cutting edge of modern reggae hybrids today.
Influences – Danny Seraphine
Chicago's founding drummer made rock safe for jazz.
Modern Drummer Rock 'N' Roll Fantasy Camp – A photo essay covering MD's latest foray into live performance and instruction.
Andrew Cyrille – Shattering conventions and redefining rhythms in the now.
Classical Roots – Part 5: Steve Reich
The in fluential composer has opened pathways to rhythmic creativity that simply didn't exist before.
Up & Coming – John Clardy
The drummer felt he'd hit a ceiling—until he hooked up with the art-rock band Tera Melos.
What Do You Know About…? – Melvin Davis
"I was a very adventurous person—I would try everything." And today the Detroit soul legend's experiments are finding a whole new audience.
First Person – Scott Devours
What happens when an opportunity to play with the Who drops in your lap? You grab that bull by the horns, that's what!
EDUCATION
Strictly Technique
• Shifting Gears 3 Paradiddle Exercises for Strengthening Subdivisions
Rock 'n' Jazz Clinic
• Flamacue Variations 26 Ways to Apply the Standard Rudiment to the Drumset
Jazz Drummer's Workshop
• Approaching Standards Musical Practice, Part 3: Language and Vernacular
Off the Record
• Classic Studio Performances Simon Phillips on Pete Townshend's "Give Blood"
Equipment
Product Close-Up
• ddrum Paladin Walnut Speakeasy Drumset
• Zildjian A Series Cymbals
• Kenner B.O.B. Maple/Hickory Drumsticks
• MagneTone Player and Concert Series Snare Drums
• Stageworks Nonslip Pedal Mats
• Auralex HoverDeck Isolation Riser and HoverMat Portable Acoustic Barrier
Electronic Review
• Korg NanoPAD2 USB Controller
Gearing Up
• The Cult's John Tempesta
Collectors Corner
• WFL Twin Strainer Snare
New and Notable
DEPARTMENTS
AN EDITOR'S OVERVIEW
• The Experience of a Lifetime by Michael Dawson
Readers' Platform
Ask a Pro – Dave DiCenso, Phil Rudd
It's Questionable: Doubles on Shakers?
Showcase Featuring Drum Market
Critique Taking the Reins
Backbeats – KoSA 18
Kit of the Month – Gift Rapping
and more!