Kevin Smart of Jake Miller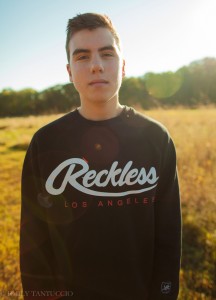 Hey, what's up guys? I'm a seventeen-year-old drummer for Jake Miller. Currently, I am sitting in Starbucks drinking some hot chocolate writing this blog.
I've always loved music, since it was constantly played in my house and despite the fact that my mom used to make me dance with her in front of the camera so she could show the family every Christmas. Luckily, I was too young to realize how embarrassing it was at the time. After my long career of tap dancing, my dad decided to buy me a drumkit. I then went on to join the school band and play "Twinkle, Twinkle Little Star" at the winter and summer concerts. In the beginning of my freshman year of high school, I joined a performance-based school called the School of Rock. It allowed me to play with peers and receive private lessons. I started my own bands and projects that year. I can't tell you how many times people have told me that I wouldn't be able to do anything with my musical career. (Haters.)
I completely disregarded any of those comments and kept working. I was talking to a buddy, Scott Nebb, and he suggested I put up a drum cover. I chose to cover Jake Miller's single "A Million Lives," and it immediately caught the attention of Jake. Then a few months later, I got a call with an offer to play drums for on his first tour. My manager/drum mentor, Chris Stone, started drilling me harder and harder to better myself as a drummer. Let me tell you: dedication, positivity, and hard work pay off.
I just got off the second tour with Jake, known as the Us Against Them Tour, and it was a blast! There is a bunch of tour videos on Jake Miller's YouTube channel. In one of the episodes, I actually get my face smashed into a cake, and the cake didn't break. Pretty funny, actually. Please check it out when you get a chance. The videos (link below) on his channel are dope! Advertisement
Unfortunately, I have to go back to school soon—not stoked on that. But you have to get your education, so it's worth it. I haven't been to school in over two months. It's going to feel weird going back to high school after being an "adult" on tour. (I just realized that the barista person put "pop punk bro" on my Starbucks cup. Ha!)
I am very excited for what's in store for 2014, I am going to be working super-hard on improving my drumming and might even hit the gym to get buff. Anyway, I'm going to try and sit next to the cute girl at the table behind me, and see if I can get myself a prom date.
I endorse Pearl drums, Soultone cymbals, Cympad, Reactorz, Stageworks Gear, Stone thrones, and Rim Riser.
Thanks for being a part of my life!
Check out a few videos here.