Daniel Bordihn of Bordeen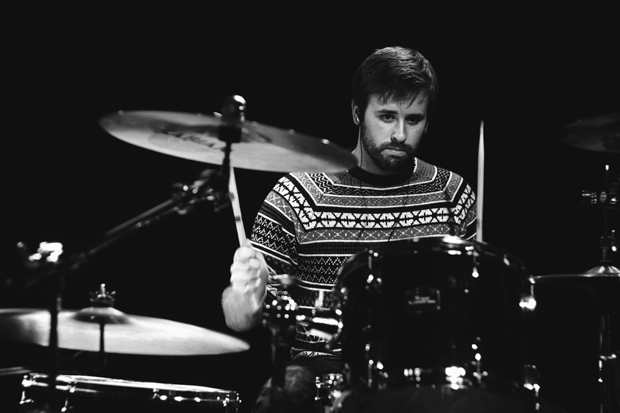 Hi there, Modern Drummer readers! I'm Daniel of Bordeen, an indie-rock band from Newmarket, Ontario, Canada.
I started playing drums when I was eight years old, and my first drum teacher was the drummer from Ontario band the Salads. One of the biggest influences I've had musically growing up has been the Red Hot Chili Peppers. Listening to Chad Smith laying down solid beats inspired me to get his signature snare drum. Another one of my favorite drummers is Carter Beauford from Dave Matthews Band, who is phenomenal. His syncopation and creative playing have always impressed me. These two incredible drummers, who have very different styles of playing, have helped me incorporate different ideas on the kit.
For the past three years, I have been the drummer for Bordeen. The core of our band consists of my brother, Ryan, my sister, Brianna, and myself. Having grown up in the same house, we have been performing together ever since we were little. We started out playing along to Hanson, and I rocked out on buckets and trashcan lids.
Collectively, as a family and a band, we have a wide range of influences that we bring to the table, and that variety helped contribute to our sound. We released a self-titled album at the beginning of 2013, after meeting and teaming up with our producer, Juno award–winner Paul Carroll. It was nice to be able to go into the studio and collaborate with a professional drummer so that we could really experiment with the arranging of the drum parts in an artful and imaginative way, while also laying down a really solid groove (as Paul would say, "Laying bricks"). Advertisement
Working with Paul was a huge asset to us when it came to working creatively through not only what to play but what drums to use. We tracked the whole album using Canwood drums. On our latest single, "Don't Close Your Eyes," there is a bridge breakdown section were we used a combination of timbales, tambourine, and cowbell to achieve the percussion solo we ended up with. We also used timbales in a few other places on the album—most notably on the opening track, "Sometimes."
Throughout the writing process of the album, we were all mindful of presenting a collective moment rather than showcasing individual musicianship. So with that approach in mind, the drums serve the purpose of the song, whether that means the drums are laying down a quarter-note kick pattern ("Me And The City," "Out In The Dark") or playing something more syncopated ("Don't Close Your Eyes," "Big Plans").
For the past year since our album release, we have been touring Southern Ontario, as well as touring further east to Quebec, and we have shared the stage with Pup, the Fast Romantics, and I65 (Stereos). In 2014, we plan to cover a lot of ground, touring across Canada as well as heading out on our first US tour. We are excited about being able to do what we are all passionate about: making and playing music. Advertisement
Cheers!
For more on Daniel Bordihn and Bordeen, visit bordeen.bandcamp.com.
Photo by Carrie Jade