Drum Instructor Sam Ulano Passes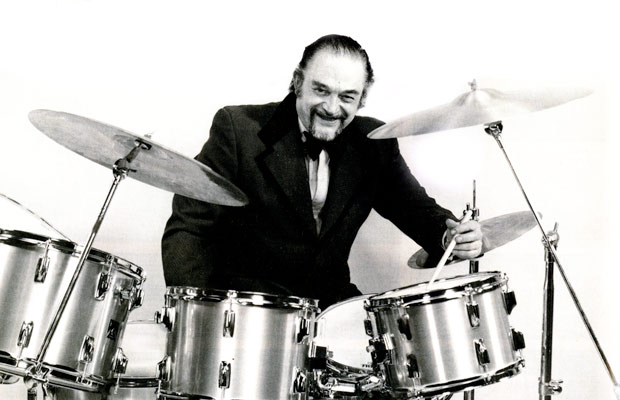 Sam Ulano, a beloved yet controversial player and instructor who Modern Drummer readers will recognize from the many ads he ran in the magazine over the years, passed away last week, at the age of ninety-three. MD published an interview with Ulano in the September 2011 issue, which we've reprinted here in honor of his long career.
Sam Ulano is the Energizer Bunny of the drumming world. Ninety years old and still maintaining a busy teaching, practicing, and performing schedule, Ulano has enjoyed accomplishments that are unparalleled. He has published enumerable instructional books and pamphlets called "Foldys" (more than 2,500 by his count). He's performed or recorded with everyone from Moondog to Johnny Lydon's PiL. He had the first—and perhaps last—cable TV show dedicated to drumming, which ran from 1975 to 1981. He once held the Guinness record for the longest drum solo (sixty-seven hours). His New York City drumming school, founded in the early 1950s, hosted such greats as Art Blakey, Max Roach, and Papa Jo Jones. And he's produced countless CDs, tapes, and videocassettes. His latest DVD, Sam Ulano's Drumming Life: I Love What I Do, was produced by his son, Mark, an Academy Award–winning sound engineer. A man of singular vision, Sam is sure of what makes a great drummer—and what doesn't.
"The twenty-six rudiments are cancer to a drummer," the legendary educator asserts, more than a little provocatively, from his New York City apartment. "The first thirteen were created for parade drumming in 1812. They had nothing to do with [kit] drumming, because there was no drumset then. Now it's 2011, and the twenty-six rudiments are the reason drummers can't play the instrument and usually end up quitting and getting a day job. I use weights and metal drumsticks to build up my hands. I've been doing that for sixty-five years. My hands are as strong as they can be. Rudiments won't make your hands strong. Advertisement
"Listen to this, and if I am wrong I will eat it without ketchup or salt on it," Ulano continues. "Rudiments don't show up on any big band chart, or on a Broadway theater chart, or in the classics by Beethoven, Bach, or Brahms, or in TV or film music. Rudiments have nothing to do with playing the instrument."
Ulano, who counts among his former students Tony "Thunder" Smith, Allan Schwartzberg, Marvin "Smitty" Smith, Dion Parsons, and Art Taylor, focuses on reading as a means to success. A drummer who can read music and is well versed in many styles—another Ulano focus—is more likely to work than one who performs the cleanest rudiment or has the fastest Drumometer speed.
"I give a drummer a listening test when he first comes to me," Ulano explains. "Music is math, so how's your math? Do you know why an 8th note is an 8th note? Most musicians don't know why. It's an 8th note because it has a line across the top of it, and that line came from mathematics." Advertisement
Ulano began playing the drums at age thirteen and opened his first studio four years later. In high school he won the gold medal for music. He attended the Manhattan School of Music before entering the army, where he trained a hundred-piece drum corps. After World War II, Ulano opened a popular Times Square–area drum school, and while performing nightly at such NYC hot spots as the Gaslight Club, he also appeared on television with Steve Allen on The Tonight Show, as well as with Garry Moore (What's My Line?), Ernie Kovacs, and Joe Franklin. All the while writing, teaching, and practicing, Ulano built a loyal following of students and admirers.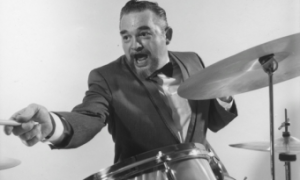 Sam's most popular instructional-book titles include Bass Bops (one of the first drumming methods to deal with bebop), You Gotta Have a System, and Insanity Four Drummers. Ulano recommends his Drum Reader series for beginning players.
"The first three Drum Reader books are elementary," he says. "They're not about how to hold the sticks and all that garbage. These are books that break down the basics of reading. Books eight, nine, and ten are advanced and would blow anybody's mind. But they are an organized system of study. You can buy all these on my website [samulano.com]." Advertisement
Ulano also stresses the importance of understanding rhythms beyond the confines of rock. "Can you play a paso doble? Can you play a hora? Can you play Greek rhythms? Can you play in any musical situation? If you can't read, you can't learn those situations. My books deal with that."
Sam's physical regimen is impressive for a man of any age. He lifts weights daily (fifty reps of ten-pound weights), performs stretches, and maintains his high school weight of 154 pounds.
"I believe in a system," Ulano says. "Every day I read [music], and I write books in a series. I created my own counting system. Tony 'Thunder' Smith has talked about my system. Drummers speed up and slow down because they've been trained to do that. They play the mommy-daddy, mommy-daddy roll from slow to fast, then they get in a band and subconsciously speed up. If they know how to count, they won't do that."
Beyond drum lessons, Ulano stresses life lessons. He believes his method helps drummers make a living and continue to play long into their adult life. "The big crime today," Sam says, "is that young people spend time in the studio rehearsing original music, then release a CD that never stands a chance, and they're not learning the business. They don't study, they don't find a teacher to instruct them in this business, and the next thing you know they have to get a day job. You have to support yourself. You can't do that by playing a five-stroke roll or a paradiddle. Unless they get rid of that garbage, they will never play the instrument on a professional level." Advertisement
Ulano's latest books offer advice on aging and swinging well into the golden years. I Love What I Do! (A Drummer's Philosophy of Life at Eighty) and Keep Swinging! (Approach Your Senior Years Without Skipping a Beat) gather Sam's sage wisdom into easily readable and inspirational volumes. So, what is the author's key to longevity? "I lift weights every morning. I do leg stretches. I don't eat after six o'clock. I don't get in debt—no credit cards. And I practice with metal drumsticks. That is very controversial. I go out with friends and listen to music. I'm a half-ass singer, so I sing a few tunes. I keep my brain clean. I don't worry. There's nothing that bothers me. You've got to have a purpose, and you have to organize yourself. I live by a system. You gotta get a system!"
Original article written by Ken Micallef