Danny Young of <em>We Will Rock You</em> Tour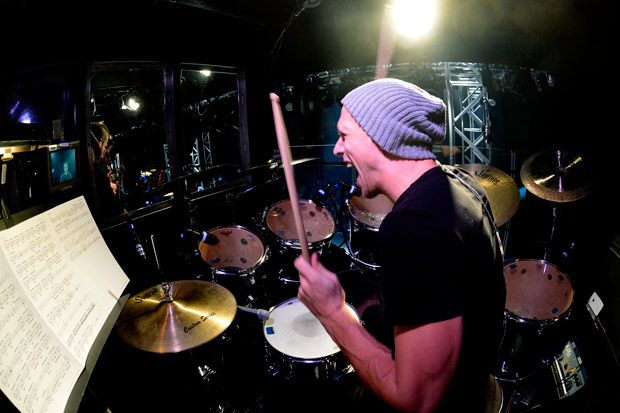 Hey, Modern Drummer readers! My name is Danny Young, and I'm currently the drummer on the We Will Rock You tour. Over the past few years, I have been playing on a lot of Broadway shows, including this current tour, but my career has actually been quite diverse.
My first professional drumming job was on cruise ships. Ships were amazing because I was able to grow leaps and bounds as a musician, playing every style of music imaginable, while seeing the world. It was also how I got my first taste of playing Broadway shows. Royal Caribbean put official Broadway versions of Hairspray and Chicago onboard the two largest ships in the world, and I was the lucky drummer that got the call.
Following my two years on ships, I played drums on the US tour of Mel Brook's Young Frankenstein the Musical, a pre-Broadway run of Jerry Lewis's Nutty Professor Musical, and on the US, Japanese, and Korean tours of Green Day's American Idiot. Although a large portion of my career has been in musicals, I have also toured with country artist Derryl Perry and 1980s hair band Nelson, have played several gigs at the famous Birdland in New York, and even back-lined on the hit TV show Smash with Liza Minnelli. My diverse background and eagerness to learn allows me to take about any job thrown at me in about any genre. Advertisement
When I first heard there was a Queen musical, I instantly made that my new goal. I knew the musicians were going to be handpicked by Roger Taylor and Brian May of Queen, so I did as much research as possible in order to play just like Roger. Auditions took place in a New York studio, with around forty other musicians competing on drums, percussion, keys, guitar, and bass. Once all the combinations were completed, we left the studio, and an hour later I got the call that I was selected.
We opened October 1, 2013 in Baltimore and will be on the road until August 23, 2014, playing around thirty-five cities. The tour has been amazing, and I love seeing the country while playing some amazing music for a lot of Queen fans. The highlight so far would have to be playing "Bohemian Rhapsody" opening night with Brian May. That was definitely a big rush!
I'm currently using an incredible custom drumset made by TreeHouse Drums, modeled after Roger Taylor's kits from the '80s. I've been with Soultone for a few years and was also lucky enough to sign with Humes & Berg cases and Vic Firth drumsticks for this tour. Advertisement
In addition to the tour, I also partnered with Sister Act percussionist, Danny Taylor, to create a seminar called "Beyond the Gig." It's an extremely beneficial program looking at the networking, marketing, and promotion side of being a professional musician. It's pertinent information that not a lot of musicians get to hear before attempting a career in music.
Thank you all for reading, and I wish every one of you an amazing 2014. I hope to see some of you out there on the road, and never be afraid to reach out with questions or comments. I'm always willing to help any way I can!
For more information on Danny Young, visit www.dannyplaysdrums.com, www.beyondthegig.com, and www.wewillrockyou.com.