Marian Li Pino of La Luz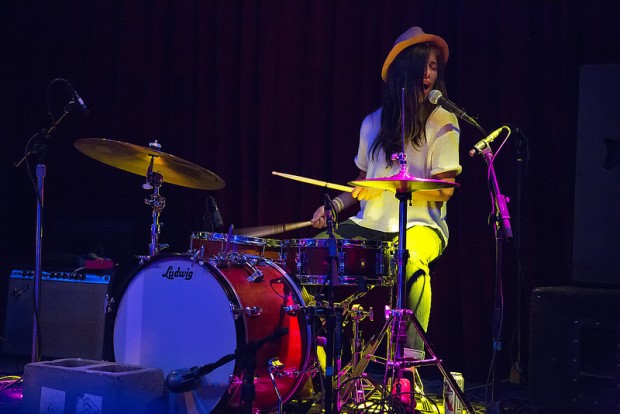 Hey, MD folks! Marian here from La Luz. About a month ago, we got hit by a semi-truck during an overnight drive from Boise to Seattle. We were touring with Of Montreal and unfortunately had to drop out due to our injuries and loss of gear. At the time, I was head over heels for my newly purchased vintage Ludwig kit, which was especially hard to lose in the wreck.
A few weeks after the accident, I received a package from Of Montreal.  The wonderful drummer, Clayton Rychlik, had purchased me a snare drum that he thought was similar to the one I had before, and he was spot on!  He found it at an amazing drum shop called Revival, in Portland, Oregon. I'd been in there once before and met the super kind and brilliant Jose, who travels around finding and fixing up vintage kits to sell back at the shop. Their collection is comprehensive and mouth watering. I decided to build my kit around the snare Clayton had given me, and knew that Revival was the perfect place to start!
After resting up from the accident, I headed to Portland to see Jose. I'm a fairly small human, so I prefer to have simple and smaller kits. Therefore I started off looking for a 20″ kick drum that could pack a punch. We narrowed it down to three kits and I settled on a gorgeous '60s Ludwig Silver Sparkle Downbeat set. It came with a 12″ rack tom and a 14″ floor tom. We set it up and it sounded great, just like my previous kit! Jose gave me a special "I'm so glad you're alive" deal, and I took it home. Advertisement
Now, as hard as it was to have lost the drums, I think my most heart-wrenching loss was the cymbals, which we couldn't even find in the wreckage. Thankfully I could find replacements at Trading Musician in Seattle, which is where I purchased my previous Dream cymbals. Have you guys played these things? They are thin and washy and have such an awesome vintage sound—just don't play 'em too hard because they bend pretty easy. I picked up the same 14″ Dream Bliss hats that I'd had before, but I was in the mood for a slightly less washy, higher tone than my previous ride. After trying a few out, my pal (and Trading Musician employee) Brian showed me a 19″ Istanbul Agop, which had just the right tone of ping, yet also had a nice deep wash when crashed. With La Luz, I only use a ride and hats, so it's important that I can get a lot from the ride. I use the bell a lot to carve out percussive patterns in our otherwise simple surf beats, so I like it to come out strong and clear.
Now that my kit is complete, I'm back at home healing my body and getting back in to the swing of things. Pun entirely intended.
For more on Marian Li Pino and La Luz, go to bandcamp.com.