January 2014 Issue of <em>Modern Drummer</em> Featuring Abe Laboriel Jr.
(on newsstands December 3, 2013)
On the Cover
Abe Laboriel Jr.
Paul McCartney's bold new album is but one topic we explore with the drummer, whose powerful desire for true interaction has made him one of the most magnetic musical personalities of the day.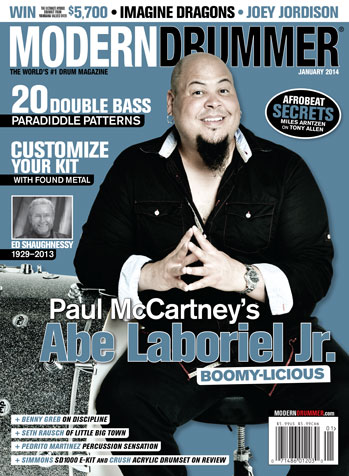 FEATURING
UPDATE
• Imagine Dragons' Daniel Platzmans 
• Scar the Martyr's Joey Jordison
• Sisu's Sandra Vu
Ed Shaughnessy 1929 -2013 – For thirty years, he was the late-night TV drummer. And in that role—and many others—he helped de ne how to drive a big band for an entire generation of players.
Shop Talk – Add Some Metal!
Next time you head out to the drum shop, take a detour and poke around your neighborhood junkyard—your new favorite piece of gear might just be waiting for you there.
Seth Rausch – Nashville is known as a town where there's a right way to do things, and a wrong way. But by avoiding the playbook, Little Big Town and its drummer have brought some well-needed freshness to the table. Advertisement
Pedrito Martinez – The "new sensation" has actually honed his skills for years and traveled many miles to arrive at his current position as one of the burning-est percussionists on the scene.
First Person – Benny Greb
"Many of us have been led to feel that discipline means the opposite of freedom. Discipline is freedom." An MD Pro Panelist makes the case for getting serious about managing our time.
EDUCATION
Jazz Drummer's Workshop
• Wisdom and Technique Lasting Lessons From Ed Shaughnessy
Concepts
• The 45-Minute Practice Routine Get Organized to Optimize Your Time Behind the Kit
Strictly Technique
• Balanced Hands Two Exercises to Eliminate One-Hand Dominance
In the Pocket
• Play on Top! Using the Snare Drum as a Melody Maker
Rock Perspectives
• Double Bass Workout Part 6: Paradiddle Patterns
Rock 'n' Jazz Clinic
• Rediscovering Rudiments Simple Ways to Progress Beyond the Snare
Around the World
• Secrets of Afrobeat Dissecting Tony Allen's Subtle and Unique Style
PRODUCT CLOSE-UP
• Crush A2C428 Acrylic Drumset
• TRX CRX Series Cymbals
• Vic Firth X55A, X8D, and DrumJammer Drumsticks
• Meinl Signature Ride Cymbals
• Savior 8.5×14 "Eyeball" Snare Advertisement
Electronic Review
• Simmons SD1000 Drumkit
GEARING UP
• Tom Petty and the Heartbreakers' Steve Ferrone
New and Notable
DEPARTMENTS
AN EDITOR'S OVERVIEW
• Honest, Abe by Michael Parillo
Readers' Platform
Ask a Pro – Paul Wertico, Terry Bozzio
It's Questionable
• Are Rhythm and Harmony Really the Same?
• Mind Matters: Am I a Drum Machine?
Showcase Featuring Drum Market
Critique
Backbeats – 2013 DCI World Championship Results
Kit of the Month – Daredevil Drums
and more!