Evan Sult of Sleepy Kitty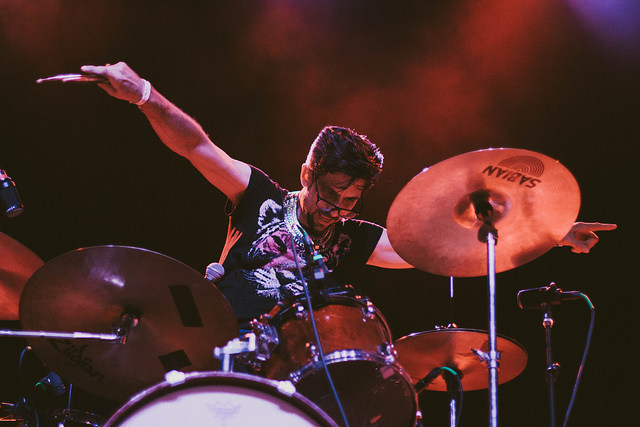 I'm Evan Sult with the band Sleepy Kitty. I'm currently based in St. Louis and Chicago, but I started playing drums in Seattle in 1991. The music scene was exploding, of course, and I dove right in, teaching myself to play on my roommate's abandoned drumset. In the Northwest at that time, there was a very specific branch of Oly punkitude that put the emphasis on learning by doing, not by studying, and while that version of playing certainly has its limitations, it was a really useful ethic to get started in my first band, which my roommate had just quit: Harvey Danger. We were all new at playing rock music (though our guitarist was classically trained on piano and violin), and we built our own language and style for making songs. We had a surprise breakout single with "Flagpole Sitta," which ended up getting us signed with London/Polygram and launching us straight into music as a career.
After a couple of albums, Harvey Danger ended in 2001 (temporarily, it turned out), and I moved to Chicago, where I started the band Bound Stems. That band focused on odd time signatures and complex song structures. As a member of a versatile five-piece, my role was very different from previously, and there was plenty of room to weave around the others' parts and explore the areas around the downbeat, turning beats around, playing threes against fours, and playing to different lines at different sections. I love how architectural drumming is: how much we control the song structure (especially in the writing process), and the texture, without necessarily revealing ourselves.
Sleepy Kitty formed in 2008 as a two-piece, with Paige Brubeck on vocals, guitar, keys, and live looping, and me on drums and backing vocals. This arrangement is completely different from working the back field: as one half of the band, I'm up at the front of the stage with Paige, and my parts have to account for everything that she's not playing—the rhythmic presence of the bass guitar, for instance, and the backbeat—while framing the hooks with complementary drum phrases and backing vocals. Because Paige thinks as a lead singer, harmony singer, guitarist, bassist, keyboardist, noisemaker, etc., our recordings tend to sprawl in tone relative to our two-piece setup, so part of the challenge is to render exciting versions of the songs live that feel whole, without resorting to backing tracks. The goal is to combine classic pop-song satisfactions with wilder, art-world sounds and fragments, so the drums need to be the bridge between those two worlds. Advertisement
I've been playing Tama drums the whole time. I started with a Rockstar set, because the kick drum sounded so undeniable. When it was time to upgrade, I tried out a lot of sets but kept coming back to the Tama Starclassic, again because of the kick. I play a four-piece, and I tend to tune on the low side, which helps keep out of the way of the guitar while expressing low end. As a self-taught, idiosyncratic drummer, I've built my own "lessons" and practice patterns for myself, though I did take a few key lessons from Jason McGerr, a bona fide drum virtuoso.
I've never been a technique-centric drummer; I've always been more focused on feel and ideas. There's room for both styles: While I definitely appreciate the technique-driven approach to drums, the joy of crash 'n' bash drumming that comes from a weirdo behind the kit who didn't grow up doing paradiddles is crucial too. It helps keep drums expressive and fresh.
We're releasing the second Sleepy Kitty album, Projection Room, in January, so there'll be plenty of touring in the coming year. If you catch one of our shows, come find me so we can talk drums!
Photo by Abby Gillardi. For more on Sleepy Kitty, go to sleepykittymusic.blogspot.com.