Scott Reeder of Fu Manchu and Sun & Sail Club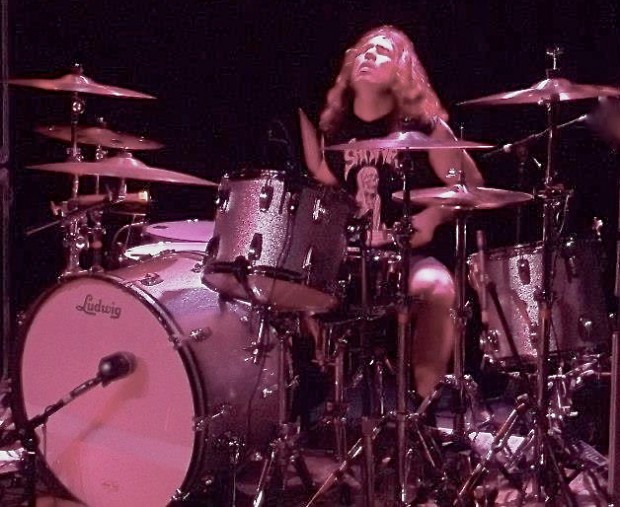 Hello, fellow bashers, my name is Scott Reeder. (No, not that Scott Reeder—more on that later.) I've been playing drums for, oh let's see, forever, or at least as long as I can remember.
This is the second blog I've done for moderndrummer.com. The last one was about being on tour in England and going on a day off to pay quiet respects in Rushock Parish to one John Henry Bonham and encountering, of all things, a black dog at his resting place. (Yes, that really happened.) But more importantly…
I recently completed two projects that I'm really excited about. One is a new Fu Manchu song called "Robotic Invasion" from a group of songs for the forthcoming album that we are readying for 2014. It will be our first since 2009. Why so long? Well, in 2009, when we recorded our last album, Signs of Infinite Power, we went on the road and did two tours of America and Europe. That took us up until the end of 2010. Then we did two reissues of our albums In Search Of and The Action Is Go. We toured on of those through America, Europe, Australia, and New Zealand, playing both albums in their entirety. That ate up most of 2011/2012 and the beginning of 2013. In that time there were also tours for me with Social Distortion and Orianthi, filling in for missing drummers (drummers tend to go missing, you know.) Oh, yeah, I almost forgot about all those students as well!
So in that brief history of time, there were also many riffs floating about that Bob Balch (guitarist of Fu Manchu) would send me over the inter-web, and I would send him drum parts to match the riffs. Or I would start a drum warm-up, get inspired, and send him a few beats to write riffs to. Pretty soon there was a treasure trove of good stuff going. We also had a bunch of different things that we thought might not fit the Fu, so we decided to do something with them. Advertisement
In January of 2013 we found ourselves in the studio of the other Scott Reeder in Palm Desert, California. This is the man who laid down the thick foundation of bass for the mighty, legendary Kyuss. After meeting each other finally in person (the "stoner rock" universe tilted slightly, I think) we got down to business and I put down drums for ten songs in  four hours. Bob and I were well rehearsed, so we blew through them in good order, keeping mostly first takes. What we didn't expect was for Mr. Reeder to lay down bass guitar for the songs, which he did eventually, being so inspired by what he heard.
The result is the debut album by Sun and Sail Club, Mannequin. Bob did all the vocals on Vocoder to give the record a slightly out-of-this-world feel grounded in riff-heavy rock. It was amazing fun to play and even more fun to listen to once Scott Reeder had put his amazing touch on bass to it.
With Sun and Sail Club and new Fu Manchu on the horizon, as well as a twenty-fifth anniversary of the band looming soon, it's going to be a busy couple of years of drumming. Couldn't ask for much more. Advertisement
On these and the Fu Manchu sessions, I decided to return to my natural-finish Classic Maple kit by Ludwig that I used to record and tour with on the Fu's We Must Obey album and tour. The drums were a 12×14 tom, 16×16 and 16 x18 floor toms, and a 14×26 kick drum. The snare was a 1971 6.5×14 Supra-Phonic. Two Rototoms, size 12″ and 13″, rounded out the drums. I used primarily Sabian AAX crashes—two 18s and two 20s—an 18″ Ozone crash, and 15″ AA Hi-Hats. The ride was the trusty 22″ Paragon that just blows doors for volume and sheer Keith Moon–like brilliance when you want to crash-ride on it. It takes it and gives it back in spades. Vic Firth 5Bs were of course my wood of choice, and Evans were the heads that I abused. A brand-new set of Classic Maples has already been delivered by the drum Santas at Ludwig (thanks Santa Packard and Santa Wagers!) for touring purposes next year. Can't wait to share them with you all!
Cheers and keep rocking.
For more on Scott Reeder, Sun and Sail Club, and Fu Manchu, go to scottreederdrums.com,  facebook.com/SunAndSailClub or fu-manchu.com.