Legendary Drummer/Percussionist Walfredo Reyes Sr.
Hello, everyone! Walfredo Reyes Sr. here. It's been eight years since the 2005 Modern Drummer Festival where I was honored with a Lifetime Achievement Award. It was a great event with many incredible drummers.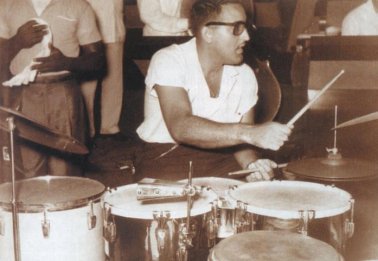 The festival started with the introduction of Brazilian drummer Eloy Casagrande, who at the time was only fourteen years old, and ended with a great performance by one of my idols, Roy Haynes. When I was called to the stage to receive my award, to my surprise, the great drummer Horacio "El Negro" Hernandez, whom I consider an adopted son, was the presenter. It was a very emotional moment for me.
It was the same year that my dear friend Elliot Fine and I started to discuss collaborating on a book, and the concept of The 2 in 1 Drummer was born. Elliot was a member of the Minnesota Orchestra for almost fifty years and was an inspirational educator. The book 4-Way Coordination, which he co-wrote with the great Marvin Dahlgren, has inspired drummers worldwide. Advertisement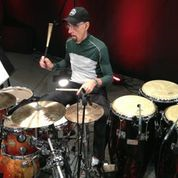 I'm pleased to announce that Alfred Music is publishing our book, The 2 in 1 Drummer. It focuses on an approach to drumming I developed in the 1940s and '50s, after being inspired by Candito "Candido" Segarra and many drummers in Cuba and New York, which combines playing hand percussion and drumset, as two players do, simultaneously into one. I'm proud that this approach has grown in popularity amongst the younger generation of Afro-Cuban-influenced drummers, and our book aims to inspire drummers worldwide by demonstrating a universal application of the concept that fits with all styles of music.
With the collaboration of David Stanoch and Mark Powers, both great drummers and percussionists in their own right and students of Elliot Fine and Marvin Dahlgren, this book finally came together. David is also the author of his own book, Mastering the Tables of Time. The 2 in 1 Drummer is meant to be an inspirational tribute to the memory of Elliot, who unfortunately passed away before we were able to finish the project.
Thank you for tuning in. We look forward to seeing you at PASIC this November 2013, where David Stanoch and I will introduce the book in a combined presentation.