Crimson ProjeKCt's Adrian Belew, Tony Levin, and Pat Mastelotto to Host Third-Annual Three of a Perfect Pair Music Camp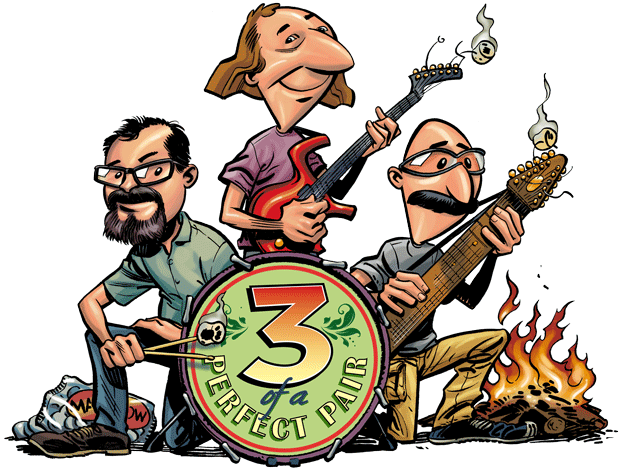 Guitarist Adrian Belew, bassist Tony Levin, and drummer Pat Mastelotto are bringing their Three of a Perfect Pair music camp back to Full Moon Resort in Big Indian, NY for the third year in 2014. The weeklong getaway, running from Monday, August 11 through Friday, August 15, will feature performances, workshops, and social/recreational activities, all set against the idyllic backdrop of the Catskill Mountains. The camp is part of the Music Masters Camp Series (www.musicmasterscamp.com) held at Full Moon Resort.
At the Three of a Perfect Pair Music Camp, Adrian, Tony, and Pat will share meals, tales from the road, and the stage during after-hour jam sessions with campers. Whether campers play guitar, drums, or bass, the camp offers a rare opportunity to learn, play, make new friends, and get up close and personal with this trio of musicians.
There is little doubt about what drew the trio back for a third year. "The campers!" says Pat Mastelotto. "We get pretty up-close and personal. Several have ongoing emails or come to gigs throughout the year. They become pals." Advertisement
Attendees at Three of a Perfect Pair will have access to all workshops, seminars, gourmet meals, performances, and camp activities. The camp offers a variety of pricing options, based on the variety of available accommodations. All activities will be held at Full Moon Resort in Big Indian, NY, which features an array of comfortable, rustic country-inn accommodations as well as primitive tent camping. All accommodations are steps away from daily camp activities. Guests can enjoy the spring-fed swimming pool, on-site access to the Esopus Creek, and explore the Catskills on the nearby network of hiking trails.
The full itinerary and roster of special guest musicians for Three of a Perfect Pair are to be determined, in part through the feedback of returning campers. Look for more details in the coming months at www.threeofaperfectpair.com.
Prior to coming together for the Three of a Perfect Pair Music Camp, Adrian Belew, Tony Levin, and Pat Mastelotto hit the road in March 2014 for a month-long European Crimson ProjeKCt tour. Adrian Belew made his mark as a guitarist, singer, songwriter, multi-instrumentalist, and record producer. Best known for his previous work as guitarist and lead vocalist for seminal prog-rockers King Crimson for over thirty years, Adrian has led avant-pop band the Bears for more than twenty-five years, and the Adrian Belew Power Trio for nearly a decade. Belew has more than fifteen acclaimed solo albums and countless collaborations to his name. Advertisement
Tony Levin started out in classical music, attending the Eastman School of Music and playing bass in the Rochester Philharmonic. Later moving into jazz and rock, he has had a notable career, recording with John Lennon, Pink Floyd, Peter Gabriel, Yes, Alice Cooper, Paul Simon, Carly Simon, Judy Collins, and many more. He has also released five solo CDs, three books, and has had numerous exhibitions of his photographs. He tours throughout the year with the band Stick Men, and he is currently a member of King Crimson and the Peter Gabriel Band.
After spending thirty-five years working with many of the top artists in the pop and prog-rock scene, Pat Mastelotto released his first solo album, Recidivate, in 2012. The King Crimson/XTC/Mr. Mister drummer decided to take a slightly different path by assembling a compilation of outtakes, rarities, and highlights from the past twenty years of his career, recruiting several artists he has worked with to participate in the project.
For more information about the Three of a Perfect Pair Camp and its hosts, visit threeofaperfectpair.com, facebook.com/threeofaperfectpaircamp, http://youtu.be/r1TeqckD1dA (video overview), and www.patmastelotto.com, www.adrianbelew.net, and www.tonylevin.com. Advertisement