Zildjian Launches Sound Lab and Build It. Win It! Sweepstakes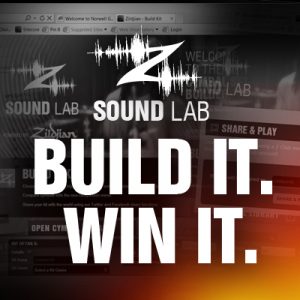 The Avedis Zildjian Company announces the launch of Sound Lab, an exciting new social-web community for drummers, where visitors build their own virtual cymbal setups from a full library of sound files and then share their setups with friends. Visitors to the Sound Lab may choose from nine drum setups to build a unique configuration of cymbals or select from a library of pre-set Zildjian artist setups. The Sound Lab allows visitors to compare any number of cymbals side-by-side, select cymbals that instantly appear on a kit, and play individual cymbals to produce up to two different sounds. In addition, visitors are provided with a variety of wallpapers to customize their kits and the option to print, so they may take their cymbal choices to their local dealer.
The most exciting feature of Zildjian's new Sound Lab is the ability to share cymbal setups with the world through Facebook and Twitter. The Zildjian Sound Lab is built using HTML 5 to ensure its ease of use on many platforms.
To celebrate the launch of the Zildjian Sound Lab Cymbal Set-Up Builder, the company will kick off the "Build It. Win It!" sweepstakes, where one lucky Z Club member will win his/her virtual cymbal setup just by creating and saving it. Four weekly winners will also be selected from members of the Sound Lab Community who use the built-in "Share" button to tweet their setups and mention @ZildjianCompany and the hashtag #myZildjianSetUp on Twitter. The sweepstakes is open to all Z Club members worldwide and runs until October 31, 2013. Sweepstakes entrants must be a member of Z Club in order to save his or her setups and be entered to win. No purchase is necessary to enter, and Zildjian's Z Club is free to join for anyone thirteen years of age or older. Advertisement
Details of the sweepstakes can be found at Zildjian.com/builditwinit.
To preview the new Zildjian Sound Lab Set-Up Builder, visit Zildjian.com/soundlab.