Thirteenth-Annual DrummerFest Taking Place October 19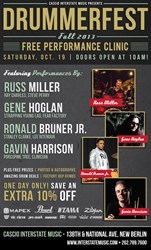 Milwaukee music store Cascio Interstate Music, located at 13819 W. National Ave. in the Milwaukee suburb of New Berlin, will hold its thirteenth annual DrummerFest on Saturday, October 19, starting at 10 am and ending at 6 pm. This free event is open to the public.
DrummerFest 2013 will showcase four exceptional drummers: Russ Miller (Ray Charles, Steve Perry), Gene Hoglan (Dethklok, Strapping Young Lad, Fear Factory), Ronald Bruner Jr. (Stanley Clarke, Lee Ritenour), and Gavin Harrison (Porcupine Tree, King Crimson, 05Ric). Prizes will be offered, along with photo and autograph opportunities, special deals on gear, and product demos.
Russ Miller's performance is presented by Mapex and Zildjian. As a multi-platinum recording artist, Miller has worked with an incredible list of over fifty international artists, including Ray Charles, Steve Perry, and Tina Turner. The Modern Drummer Readers Poll has repeatedly voted Russ as one of the top five studio drummers in the world. Miller has performed on more than 250 albums and has recorded for many television shows and over fifty international movies. Advertisement
Gene Hoglan, presented by Pearl and Sabian, is a well-known metal drummer, famous for his extremely fast and technical playing style. In 1984, Hoglan began his music career as a lighting engineer for the seminal thrash band Slayer, and at the end of 1984 was asked to join Dark Angel as the drummer. He achieved greater notoriety during the mid-1990s playing with Death. He recorded several albums with Devin Townsend, both as part of the speed/industrial/death-metal band Strapping Young Lad and under Devin Townsend's name. He currently performs with Zimmers Hole, Meldrum, and provides the drums for Dethklok from the popular animated series Metalocalypse.
Ronald Bruner Jr. is being presented by Tama and Zildjian. He started his professional career at fifteen when he appeared at the Theolonius Monk Institute. That experience opened the door for Bruner to perform with many great artists, such as Wayne Shorter, Dianne Reeves, and Ron Carter. At eighteen, Bruner became a regular member of Kenny Garret's jazz band, and in 2004 he became involved in the Young Jazz Giants album. Bruner was also a member of the punk band Suicidal Tendencies and has played with George Duke, Stanley Clarke, and Marcus Miller.
Gavin Harrison, presented by Zildjian and Sonor, is an award-winning drummer who's best known for his work with prog rockers Porcupine Tree, 05Ric, and King Crimson. Harrison is also a popular clinician and author of several educational drum methods. In 2007, he began a long-term collaboration with 05Ric, which led to the release of three CDs. In 2008, Harrison joined progressive rock band King Crimson as part of a dual-drummer lineup with Pat Mastelotto. Harrison will be one of three drummers in the newly announced lineup of King Crimson, with a tour beginning in September of 2014. Advertisement
Customers who attend DrummerFest can save an extra ten-percent off on sponsoring products from Mapex, Zildjian, Tama, Sonor, Sabian, Vic Firth, Meinl, Shure, Pro-Mark, Evans and Remo. Attendees can also test the latest Sabian cymbals and vote for their favorites.
Cascio Interstate Music began in 1946 in West Milwaukee as a small teaching and accordion studio owned by Frank Cascio. Today, over 75,000 musical products are marketed nationwide via catalogs and online, and locally at their SuperStore in New Berlin.