Session Drummer/Programmer Steven Wolf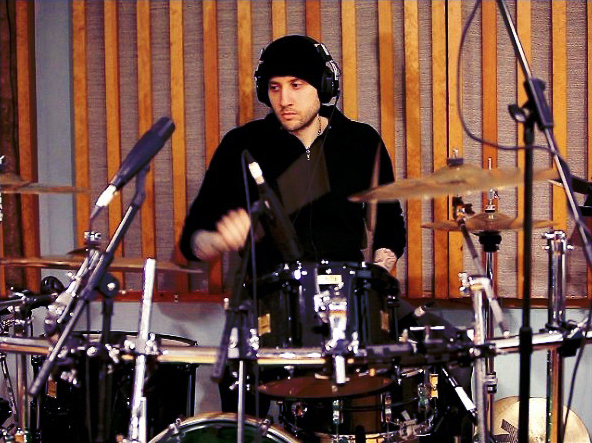 My name is Steven Wolf, although most people refer to me as just Wolf. I wear many musical hats, so you may know my name from any number of places.
For those of you who don't know me, I'm a session drummer, programmer, producer, writer, and remixer. My credits include Katy Perry, Alicia Keys, Miley Cyrus, Ke$ha, Kelly Clarkson, Pink, Britney Spears, Avril Lavigne, Beyonce, Celine Dion, Cher, Annie Lennox, Chaka Khan, Joss Stone, Hall and Oates, the Bee Gees, Johnny Cash, and many others.
I'm most often associated with super-producer Dr. Luke, and these days I mostly work with pop artists. But I actually got my start touring as a jazz/fusion drummer, and I came up playing with artists like Hiram Bullock, Grover Washington Jr., Tribal Tech, Screaming Headless Torsos, Larry Coryell, Eddie Harris, the Gil Evans Orchestra, and Jef Lee Johnson. I eventually shifted more to the pop/rock/R&B world, and after a few major pop tours I slowly phased out touring and began focusing more on session work.
Like most pro drummers, I spent my youth studying and practicing drums, but I also got into electronics at an early age. So programming has always been part of my skill set. I'm just as comfortable sitting behind an MPC or a computer as I am sitting behind a drumkit. Of all the session work I do, about forty-percent is live drums, forty-percent is programmed drums, and twenty-percent is combination of live and programmed drums. Advertisement
In addition to session work, I stay busy producing, writing, and remixing, which are all fun and can be more lucrative than drumming. But drumming is still my favorite.
When I was a young jazz drummer, I had lots of chops, and I showed them off whenever possible, whether it was musically appropriate or not. Now I take the opposite approach. I play (or program) for the song—not for myself. It's all about supporting the music, and I take a very "less is more" approach, unless asked to do otherwise.
I think it was Steve Jordan who said something like, "The amount of notes I play is inversely proportional to the amount of money I get paid." That's great food-for-thought for any drummers wanting to make a living as a session musician.
Case in point, I played drums on the new Miley Cyrus single, "Wrecking Ball." The drums are incredibly minimal in it. It's a combination of programmed and live drums doubling the same simple part. The drum pattern is really sparse, and it's only in the choruses, and there are no drum fills in the song at all. That's all that was called for, and it suits the song. Advertisement
I'll be doing some upcoming tutorials on the art of studio drumming and programming in MD, so keep a look out for them.
For more on Steven Wolf, visit www.wolfedelic.com.