Product Close-Up: Gretsch Renown RN1 Drumset (December 2013 Issue)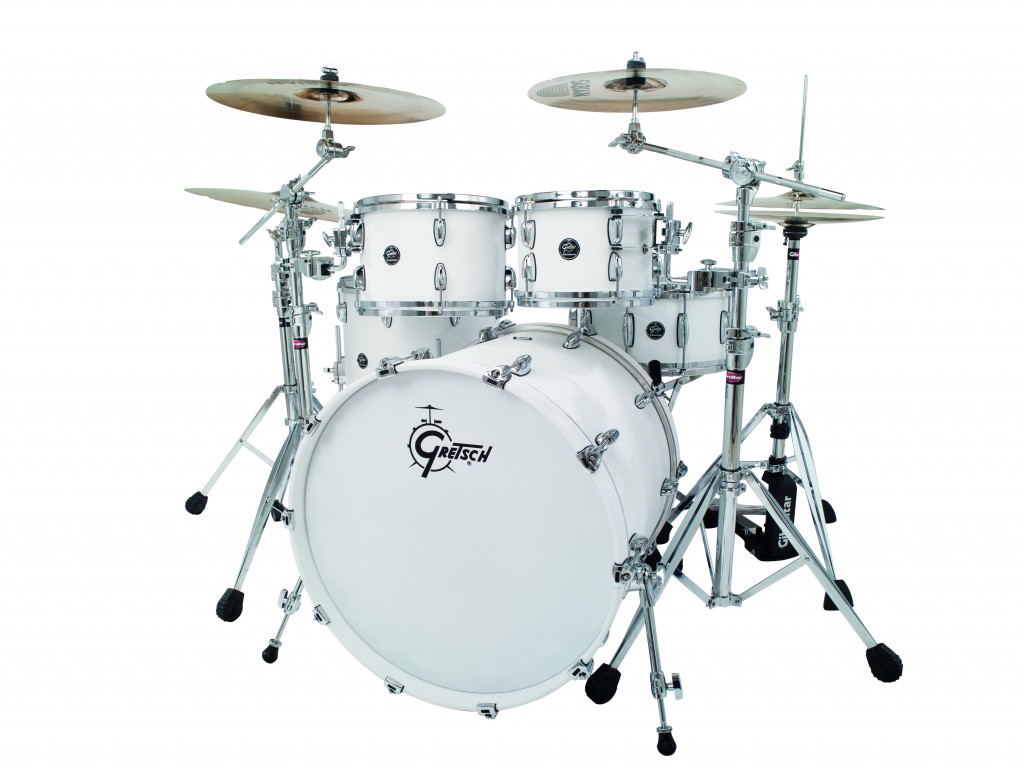 by Michael Dawson
The Renown series was devised to offer working drummers a sturdy, tour-ready kit with all the classic Gretsch appointments (30-degree bearing edges, die-cast hoops, rock maple shells), for a more manageable price. This year, the company overhauled the line with some nice cosmetic and functional upgrades, while maintaining the series' trademark contemporary-yet-classic sound. We were sent a four-piece RN1-E8246 Euro shell pack in satin white finish ($2,615.99), plus a matching 6.5×14 snare ($500.99).
Shell Packs
Gretsch offers four Renown shell packs: a three-piece Rock option with a 16×24 kick and 9×13 and 16×16 toms; a four-piece Groove kit with a 16×20 kick and 7×10, 8×12, and 14×14 toms; a three-piece Euro with an 18×22 kick and 8×12 and 14×16 toms; and the four-piece Euro setup we have for review, which includes an 18×22 kick and 7×10, 8×12, and 14×16 toms. Other available component drums include 7×8, 8×10, and 10×13 rack toms, a 16×18 floor tom, and a 5×14 snare. None of the bass drums are drilled, and each pack comes with the appropriate number of G1-SLLRM tom clamps. Finish options include cherry burst, satin black, silver oyster pearl, gloss natural, blue metal, and satin white.
New and Improved
The essential elements that comprise the Renown series—all-maple shells, precise 30-degree edges, die-cast hoops—have remained unchanged, but a select choice of upgrades was implemented to make these drums better functioning and more appealing to an even wider range of drummers. First off, Gretsch no longer uses the large, stop-sign-shaped Renown badge, replacing it with a round, two-tone, silver-over-black-nickel version that ties in with the company's classic aesthetic while offering a rich and modern look. On the more functional side, Gretsch redesigned the GTS tom mount to be lower in mass but stronger, and it added vintage-style, round "T-Wing" thumbscrews to the mounts, as well as to the telescoping bass drum spurs and floor tom leg brackets. These classy-looking thumbscrews held the hardware securely and were super-easy to use. Advertisement
The most significant change to the Renown series is the reengineered GTS tom suspension system, which is lighter and takes up less real estate on the drum than the previous version did. Instead of grabbing multiple tension rods at the point where the rods meet the lug casings, the new system features two horizontal bars that affix to the top and bottom of two lug casings via rubber gaskets and elongated tension-rod receivers. As a result, the new GTS mount is more stable, which means less bounce when you play, and there's no strain on the tension rods themselves. The problems I've had with some suspension systems are that they cover up too much of the drums' finish, extend too far off the drum, and are a nuisance during head replacement. The new GTS eliminates all of those issues, while still allowing the drums to sing with unencumbered resonance.
Here's what the kit sounds like tuned tight:
(Click here to listen or save)
Here's what the kit sounds like tuned medium:
(Click here to listen or save)
Here' what the kit sounds like tuned low:
(Click here to listen or save)
For more on the Gretsch Renown RN1 drumset, check out the complete review in the December 2013 issue of Modern Drummer.