Korn Drummer Ray Luzier on KXM, His Side Project With Dug Pinnick and George Lynch
On the event of Korn's new album, MD is featuring drummer Ray Luzier on the cover of its November issue, out now. The ever-busy Luzier has actually got another project happening, KXM, featuring King's X bassist/vocalist Dug Pinnick and Dokken/Lynch Mob guitarist George Lynch. "I've been a huge King's X fan since the early '90s," Ray tells moderndrummer.com. "I'd even fly to other states just to catch a show! I got to be friends with Dug through the years; I'd invite him to David Lee Roth and Army of Anyone shows, and he'd invite me to King's X shows."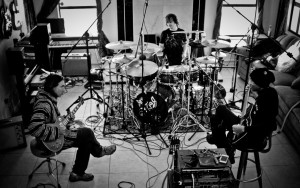 Luzier says he met George Lynch when Ray was a teacher at Musicians Institute. "I did a few clinics with him there for ESP guitars," he explains. "George then invited me to do his DVD and some other performances, and we became friends. He's one of the most unique guitarists on the planet.
"Fast forward to my son's first birthday party," Ray continues, "and Dug and George were both there. We sat in my home studio later that night and were saying how cool it would be for us to do a record together. With all of our busy schedules, it took months to try to find time to write and track. We recorded everything very raw and didn't overthink anything—just let it flow out. Now it's almost complete and we're so stoked and happy the way it's turning out. We can't wait for everyone to hear these tunes!" Advertisement
For more on KXM, go to Facebook.com. Click here to watch a trailer for Korn's latest album, The Paradigm Shift, go here  to watch the video for the track "Never Never," and watch the band discuss the track "Victimized" here.