Product Close-Up: Canopus 8×14 Zelkova Snare Drum (November 2013 Issue)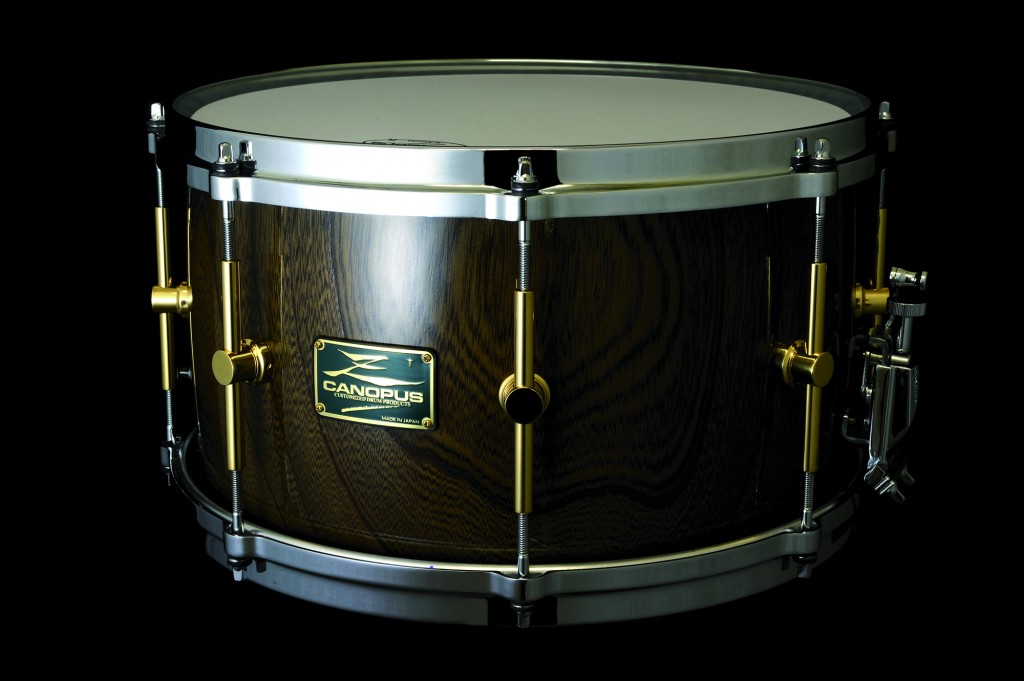 Japanese drum maker Canopus's flagship snare, the Zelkova, features a thick 14 mm solid shell made from 200-year-old zelkova redwood. To eliminate the potential for cracking, Canopus dries the wood for three years, until it reaches a moisture content of 9 percent, then bores the shell with a slight barrel-style outward bend (similar to what you find on traditional Chinese toms and Japanese taiko drums), and uses a special height-adjustable lug that can be tweaked to accommodate contraction or expansion of the shell. (The shell can widen in high humidity, therefore causing excessive strain on the wood if the lugs aren't adjusted.) Canopus also undersizes the shell, so the drumhead sits on the bearing edge a bit further in from the collar than it does on other drums, similar to what you see on timpani. Lastly, no air-hole grommet is used on Zelkova drums, to eliminate the potential for hardware rattle if the shell were to change over time.
For more on the Zelkova snare, check out the complete review, by MD managing editor, Michael Dawson, in the November 2013 issue of Modern Drummer.
Canopus 8×14 Zelkova Snare Drum (Click here to listen or save)