November 2013 Issue of <em>Modern Drummer</em> Featuring Ray Luzier
(on newsstands October 1, 2013)
On the Cover
Ray Luzier
The "new" guy? Not so much. In fact, Korn has enjoyed the talents of this supremely hard-working shredster for six years now, and before that, David Lee Roth tapped his talents for eight. One thing's for sure: Luzier's passion behind the drums is as intense today as it's ever been.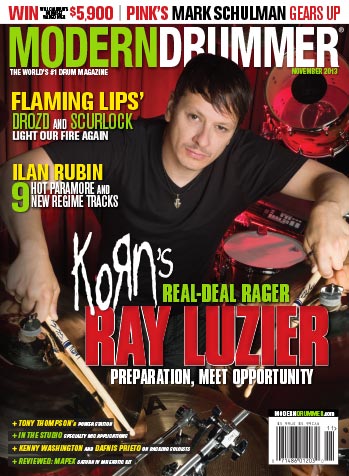 FEATURING
UPDATE
• Sebadoh's Bob D'Amico
• Sigur Rós's Orri Páll Dýrason
Woodshed – Dylan Wissing
At his own Triple Colossal Studios, this New Jersey–based drummer has cranked out tracks for top R&B and pop stars, including Alicia Keys, Drake, and Kanye West. Here, we get a tour of his space and walk through a typical recording session.
Encore – The Power Station
An unlikely 1985 alliance between a veteran rock crooner, an iconic new-wave band, and an R&B drummer par excellence resulted in one of the heaviest, funkiest albums of the decade. Advertisement
Get Good: Backing Soloists
MD Pro Panelists Kenny Washington and Dafnis Prieto help make one of our toughest drumming challenges a little easier.
Steven Drozd and Kliph Scurlock
The Flaming Lips have always gone about things a bit differently from everyone else. This month, the group's dynamic drumming duo shed light on the making of their latest artistic triumph, The Terror.
First Person
Deep listening makes for deep drumming—at least that's the argument that drummer and Meinl USA artist relations manager Chris Brewer makes here. Listen up, iTunes junkies!
Portraits – David Langlois
Unless you're already familiar with this fascinating player, you've probably never seen—and de nitely not heard—the unique percussive world he's created for himself. Stratospheric rhythms from the salt of the earth. (Click here for web-exclusive content.)
92 What Do You Know About…? Frank De Vito
"The late '50s into the '60s was a golden era—I wasn't 'number one,' but I worked a lot." The combination of realism and work ethic that the L.A. studio vet convey s with that statement is just the type of attitude that has kept him employed for more than half a century. Advertisement
EDUCATION
Off the Record – Ilan Rubin
Choice Cuts From Paramore and Exhibit A
Strictly Technique –
Chops Builders Hemiolas, Part 2
In the Pocket
Funk Drumming Training Camp Part 5: Paradiddle-Based Grooves
Rock Perspectives
Double Bass Workout Part 4: Advanced Grooves
Jazz Drummer's Workshop
Approaching Standards A Framework for Musical Practice, Part 2: Melody and Form (Click here for web-exclusive content.)
In the Studio
Seeing Sounds Part 5: Specialty Mics (Click here for web-exclusive content.)
PRODUCT CLOSE-UP
• Mapex Saturn IV MH Exotic Drumset and Nomad Snare
• Paiste Signature Precision Cymbals (Click here for web-exclusive content.)
• Spaun Tamo Ash Drumset
• Gibraltar Lightning Rod Telescoping Single-Braced Hi-Hat Stand (Click here for web-exclusive content.)
• Swan Percussion Black Swan
• Canopus 8×14 Zelkova Snare Drum (Click here for web-exclusive content.)
Electronic Review
Gorilla Ears GX-3B Monitors
GEARING UP
Pink's Mark Schulman
New and Notable
DEPARTMENTS
AN EDITOR'S OVERVIEW
Live the Dream! by Billy Amendola
Readers' Platform
Ask a Pro Kenny Arono, Alan White
It's Questionable
Mind Matters: Emotional Problems, or Just Quirky?
Showcase Featuring Drum Market
Critique Taking the Reins
Inside Methods Aquiles Priester
Backbeats
• Muscle Shoals Documentary
Kit of the Month A Journey to Remember
and more!