Dumpstaphunk Drummer Announces First Annual Gratitude Harvest Festival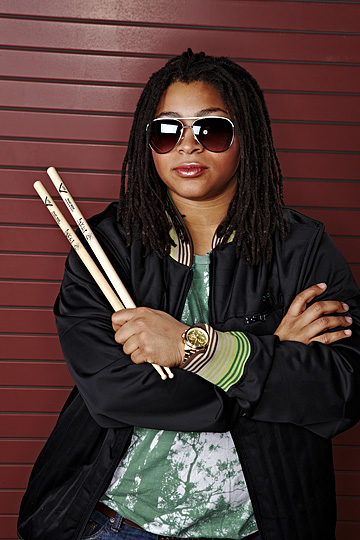 Dumpstaphunk drummer, Nikki Glaspie, is thrilled to announce the first annual Gratitude Harvest Festival, taking place this Saturday, September 7, 2013 from 12 pm to 2 am at Holy Ghost Grounds, which is located at 2 Allen's Neck Road, South Dartmouth, MA 02748. Tickets are $40 and free for children twelve and under.
The all-ages outdoor event features an eclectic variety of musical performers chosen by drummer Glaspie of Dumpstaphunk and the Nth Power. Highlights include live music on four stages, featuring the best in regional and national talent, with everything from folk and bluegrass to soul, funk, rock, hip-hop, and electronic dance music. A local food bazaar will present farm-to-table food tastings by the area's finest local chefs. Live dance performances and art installations, as well as speakers and educators presenting on a variety of sustainability and wellness topics, will also take place. Other events include yoga, rock climbing, bouncy houses, beach buses, birding, farm tours, and other fun, family-friendly activities.
Overnight camping is available on the pristine grounds of Round the Bend Farm.
Musical performances include Dumpstaphunk, the Nth Power, Jennifer Hartswick, Lifted Crew, Rebecca Correia, Putnam Murdock, Richard James, Dynasty Electric, Tem Blessed, BassWave, and many more.
Half of the festival proceeds will benefit the Southeastern Massachusetts Agricultural Partnership (SEMAP), a non-profit organization dedicated to preserving and expanding access to local food and sustainable farming in the South Coast. Through research, campaigns, and educational programs, SEMAP promotes local farmers' markets, works with public schools to bring healthy food to underprivileged students, and supports local farmers, restaurants, and local food vendors.
Tickets may be purchased at www.gratitudeharvestfestival.com.
For more information, updates, and additions, visit Facebook and www.gratitudeharvestfestival.com.