Nico Espinosa of Deaf Poets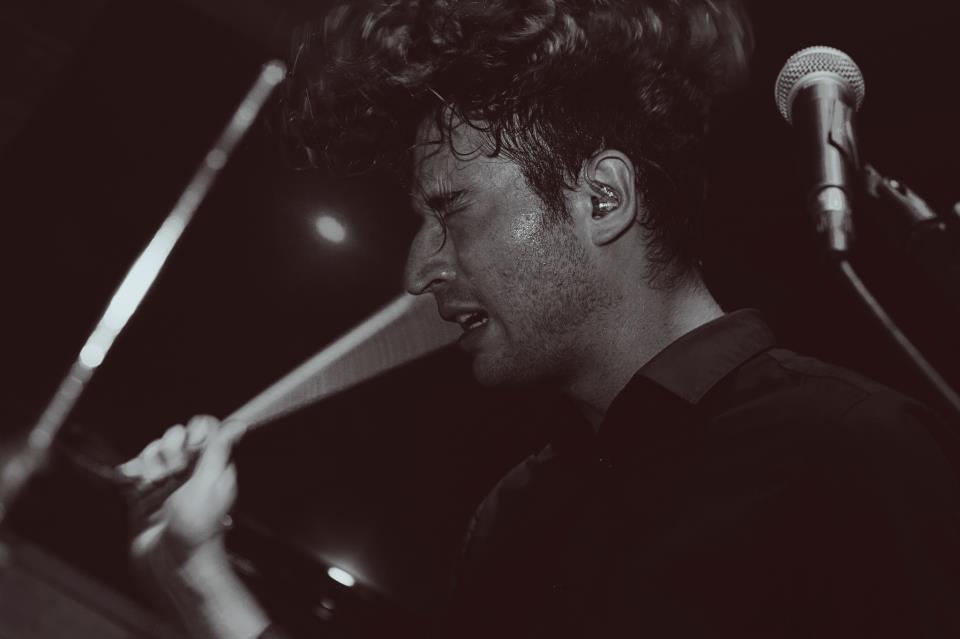 Hello, MD! I'm Nico Espinosa, drummer for Miami-based indie-rock band the Deaf Poets. I am originally from Entre Rios, Argentina, but Miami has been my home for the last thirteen years.
Drumming has been a part of my life ever since I can remember. I can still recall the days I'd spend walking around my grandparents' house hitting anything that resembled a drum. When I turned five, my mom enrolled me in piano lessons, but most of my days were spent sneaking into the drum room. At the age of nine, a year before coming to the states, I received my first pair of drumsticks. They were a generic brand with nylon tips. Unfortunately, these sticks were not built to last, so Crazy Glue became a regularly used remedy. For my twelfth birthday, my mother surprised me with a Sound Percussion four-piece kit. That drumset held its ground for about six years. It was equipped with a 20″ Solar ride and 14″ Pearl hi-hats. Live gigs were always an experience because my less than perfect setup would give out on me quite often.
The basics of my drumming skills were learned and honed in high school. I became involved in extra-curricular activities, such as winter drum line, drum corps, and jazz band. With the influence of idols like Mitch Mitchell and Stewart Copeland, I became a rudimental-based drummer, spending hours on end with my instructor Kevin John Simon working on marching snare technique in both traditional and matched grip.
My technique was perfected with the help of Noah Bellamy, a winter drum line instructor and band director who was able to provide me with the tools that I needed to improve consistently. In my junior year, a donation of drums was given to our school, and this is how I obtained the sets I use today. Advertisement
My session kit for recording is a mixture of Ludwig, including a '70s 26″ bass drum. I use 12″, 16″, and 18″ toms and a 14″ bronze snare. These drums were made for a deep tone and are built for heavy drumming. The 26″ bass drum helps to fill out our sound. I use a Remo Powerstroke 4 for my bass drum, and I alternate between Powerstroke 3 and Pinstripes for the toms.
For live performances, I use a four-piece Remo set. This set is extremely unique and versatile. It's very lightweight, which makes traveling from gig to gig reasonably easy. It has strong low-end sounds. I like a dark and low tone when it comes to cymbals. And long sustainability is one of the main features I look for, which is why I went with the Zildjian A series—a 20″ A Custom, a 24″ A Medium ride, and 14″ A hi-hats.
Deaf Poets has been my project for the past three years with my childhood friend, guitarist Sean Wouters. We've been playing music together for many years, long before Deaf Poets was formed. Our music is a mixture of garage rock, blues, and folk. Being part of the band has really opened up the door for me to play freely. While playing drums, I'm always conscious of the songwriting and focus on complementing Sean's work and making sure things mesh well between us. It's never about individual merit but rather what you can bring to the table as a whole. Advertisement
[soundcloud url="http://api.soundcloud.com/playlists/10063128″ params="" width="500″ height="350″ iframe="true" /]
One of my favorite songs to perform is "This Pain." It's a crowd favorite, due to its fast speed and energetic drumming. The guitar keeps a simple one-chord progression while I fill in the sound with a tom and snare pattern. The drum part is rhythmic and syncopated and complements the song.
We're currently planning our first US tour, and I'm very excited about it. It is quite an expensive undertaking at this point in our progression, so we are seeking help from our fans, friends, and family by launching a Kickstarter project at the end of September (visit www.kickstarter.com and search "Deaf Poets tour").
For more on Nico Espinosa, visit www.deafpoetsband.com, www.facebook.com/deafpoets, and https://soundcloud.com/deafpoets/sets/modern-drummer.