Nick Gross of Open Air Stereo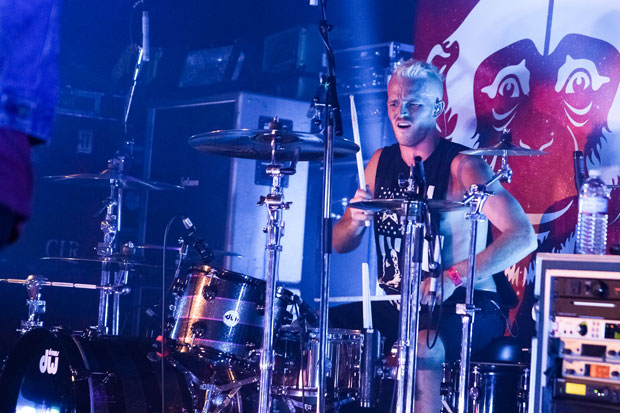 Hello Modern Drummer readers! It's always been a dream of mine to be involved with this magazine. Growing up, I always looked forward to which idol of mine would be on the cover next, so I appreciate the opportunity.
My name is Nick Gross, and I am the drummer in Open Air Stereo, a four-piece pop rock/progressive/alternative rock band from Los Angeles. We released our debut album, Primates, in May 2013, and we also went on tour with Candlebox. Our first single is called "Stuck On You," and we did a music video directed by Anthony Leonardi (Imagine Dragons).
My passion for drums, touring, practicing, writing, and recording are the things that keep me going. Being an only child growing up, my mother stuck me on the drums at age seven, and I've been addicted ever since.
My goal isn't necessarily to be the best drummer in the world but to be the most focused drummer in the world, because I believe staying focused will put you at the top. Being able to set and achieve specific goals clearly for yourself as an artist or drummer is the most satisfying victory in my eyes.
I like to consider myself not only as a touring drummer but also as a young entrepreneur in the music business. I run a music production facility in the heart of Hollywood called STRZ Enterprises (www.strzenterprises.com) with its own record label. I've also launched a media content/technology-based investment firm, called the Academy, which allows me to help build and grow companies I am excited about.
I've been playing with OAS since I was thirteen years old. We met in Laguna Beach, CA, and the band came into an amazing opportunity at an early stage when MTV's Laguna Beach featured us on its entire third season, propelling us to play MTV's TRL and inking a deal with Sony Epic Records when I was seventeen years old.
The sound of the band at that point was at its infancy, and since then we have grown into a group that has formed a solid identity with a solid idea of where we want to go. The reason I consider our music progressive rock is for that exact reason. Keeping things fresh and exciting are important keys to a young group's success in this business.
The next couple of months are exciting times for Open Air Stereo. I see us locking in an amazing tour this fall in support of Primates, and we've already started to write our second album, which we hope to put out by the middle of next year. The creative process never ends with OAS, and that's the reason why I am doing this, aside from being able to play my drums every day! Make sure to grab a copy of our record if you already haven't, and pass it along. See you all at a show!
For more on Open Air Stereo, visit their Facebook page at https://www.facebook.com/OpenAirStereo. And to watch the video for "Stuck On You" visit http://youtu.be/PrmeYK5ul5k.
Photo by Mike Windle