Mike Kennedy of the Wonder Years
Hello there! My name is Mike Kennedy, and I am a twenty-five-year-old drummer for the band the Wonder Years. This is my first ever blog with Modern Drummer, and I couldn't be more excited. As any one that knows me can attest, I can be a bit of a chatty-kathy, so I'll work to keep this concise.
When I was thirteen, and finally convinced my piano teacher to convince my mom to let me play drums, I had absolutely no idea where it would take me. From there I've had a myriad of teachers, from a friend teaching me how to play a flam on my desk in middle school, to a marching band instructor that beat me down to bring me back up, to touring with and befriending some of the best drummers in the business and watching them melt faces nightly. If I were to consolidate all of these lessons into one phrase it would be this—drumming is music, and music is art. It greatly behooves all of us drummers to never lose sight of that, as it is the axiom of our craft.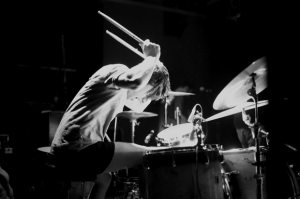 Yes, our primary task in a band is to keep that two and four going and give our front-of-stage performers and the crowd something to bob their collective heads to, but that's just the two-dollar answer to a million-dollar question. We are drummers; we are captains of the noble vessels that are our own respective bands. We control the kinetic and potential energy of the songs we play, holding back to build tension and maintain groove and going full-freaking-bore at that moment of climax. Keep that verse pocket tight and laid back when needed, don't fill every fourth measure, and give the lyrics room to breath. Then, when that right moment happens, the moment the entire song has been building to, release everything you've got. That is our job as drummers, to steer the boat (the boat is the song; it's a metaphor!). Advertisement
When we (musicians) write songs, we aren't crafting hollow minutes for us to display how sick our thirty-second-note quads are, or how many sweeps we can do on our double-neck guitars. We are creating songs. We are creating singular and cohesive pieces of art that we hope to withstand the test of time. It should never be about ego. On our newest release, The Greatest Generation, we teamed up for the second time with producer Steve Evetts who really reinforced the "serve the song" ethos by having me watch a ton of Phil Collins videos. The guy knows what he is doing.
So yeah, I guess all this is a really hyperbolic way of saying don't overplay, and put real thought into how your parts affect the song as a whole.
For more, visit www.thewonderyearsband.com.