Matt Traynor of blessthefall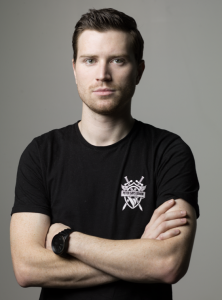 Hi, I'm Matt Traynor, drummer of blessthefall. I have been rocking the skins since 2000, so it's been thirteen years.
I first started off idolizing Travis Barker of Blink 182, banging on tabletops with taped-up chopsticks. My first real drumkit was a green Pearl Forum five-piece that I got for Christmas. For at least four years, I had drum lessons from a great man named Jim Zupancic who came to my house every other Friday to work on rudiments and basics. I was never the kind of drummer who enjoyed learning the form and rudiments; I just loved jamming out to Linkin Park and freestyling to other heavy rock CDs.
I was very reluctant when I first started playing a double kick pedal. In fact, I almost returned it because of being so frustrated trying to play double bass. But listening to Jordan Mancino and Matt Greiner really pushed me to get better and faster.
I played in numerous punk/rock and pop/punk bands through high school. When blessthefall formed toward the end of my high school senior year, I realized we had something that I really wanted to pursue. I took all my Krispy Kreme/Cold Stone savings and bought a walnut wood with black hardware DW Collector's Series five-piece kit. Advertisement
When blessthefall finally started to take off, we started to tour the world and my drum lessons took a back seat. In 2009, my dream came true and I got an endorsement with DW and bought an exotic wood five-piece kit. Currently, blessthefall has the rest of the year planned out with tours in Europe, UK, Canada, and the US. The biggest and most anticipated part of the year is the release of our fourth studio album, Hollow Bodies, which hits stores August 20, 2013.
My advice to a drummer starting out is to try to not get frustrated. Just start slow, take some lessons, and buy a metronome. Drumming takes a lot of patience, and the skill will come with a lot of practice.
For more on blessthefall, visit their Facebook page at facebook.com/blessthefall.
 To Win A Copy Of blessthefall's New Release Hollow Bodies visit the contest page here.