Adam Patterson of the Expendables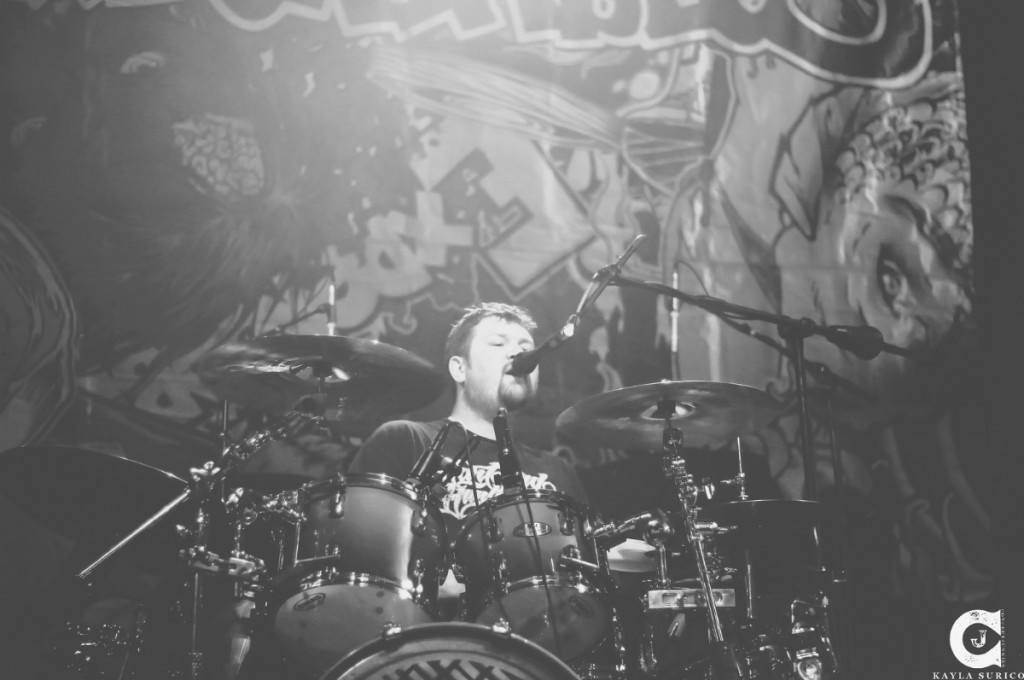 My name is Adam Patterson, and I play drums and sing for the Expendables, a band from Santa Cruz, California.
I originally started playing music in high school as a really horrible bass player who just happened to also have a drumset in my garage. I was the only one of my friends (now band mates) that could kind of play the drums, and that's how I became the drummer. I really didn't mind because, let's be honest, who really wants to be a bassist anyway? Drums are more fun.
I am self-taught and didn't take lessons when I was younger. Instead, my lessons consisted of sitting in my garage with a Walkman, just trying to play along with my favorite bands, whilst really pissing off my neighbors. Now I'm using a Pearl Reference kit that I am seriously in love with it. If I could legally marry it, I would.
Red Hot Chili Peppers, Pennywise, Police, Papa Roach, Bob Marley—all these artists have amazing drummers, and all of which have heavily influenced my style. But my favorite drummer, biggest influence, and friend is Ryan Moran (Rymo) who drums for Slightly Stoopid. His talent and dedication to the drums is truly impressive and inspiring. Advertisement
When I look back, my favorite moment on stage as a drummer would have to be playing at Red Rocks in Colorado for the first time. We were opening for 311. The venue is unlike any other that I have ever played—thousands of people sitting amongst this natural amphitheater of majestic, red rocks. It is truly a beautiful place.
With that said, there have been a few moments that haven't been so inspiring. Like the show we played in Bakersfield, California. I was not feeling so good (let's just call it "stomach problems"), but the show must go on! We start song number three of a ninety-minute set, and I realize "Oh no, I'm going to poop my pants." I got a lucky break when our guitarist's rig went out. I told our lead singer, "Play the acoustic song. I need to find a bathroom, or I'm going to have an accident on stage." As it turns out, this venue had no back stage, no private bathroom, and only one toilet in the back of the venue. So I snuck off stage and started walking through the confused-looking crowed. I headed toward the bathroom and our lead singer decided to point me out and announce to over 500 kids exactly where I was going and why. Yeah, it's a tad bit embarrassing. I made it back to stage before the acoustic song was done to one of the biggest cheers of my career. So I guess it wasn't all that bad.
For more on the Expendables, visit TheExpendables.net/band and www.facebook.com/theexpendables.
Photo by Kayla Surico.