Sublime <em>3 Ring Circus: Live at the Palace, October 21, 1995</em>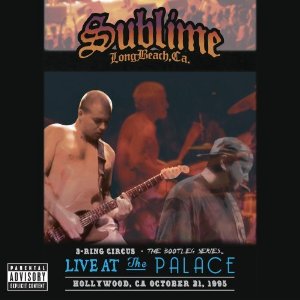 Sublime is that rare band that enjoyed most of its success and acclaim after breaking up. Following the death by heroin overdose of vocalist and guitarist Bradley Nowell on May 25, 1996, the remaining members, drummer Bud Gaugh and bassist Eric Wilson, decided they didn't want to go on without him. Sublime's eponymous third album (originally titled Killin' It but changed after Bradley's death) and first on a major label was released July 30 of that same year and went on to become a major success, peaking at number 13 on the Billboard album chart and selling over six million copies to date. In 2011 the two surviving members reunited with singer Rome Ramirez to tour and release an album under the moniker Sublime with Rome. Drummer Gaugh has since left the group, which is touring this summer with renowned session man Josh Freese.
3 Ring Circus marks the twenty-fifth anniversary of the original band's first live show. Filmed on October 21, 1995, at the Palace in Hollywood, California, the concert footage shows a blissfully unaware Sublime playing to a packed theater. (Who could have known that less than a year later the group as such wouldn't exist anymore?) The band plays an intense twenty-seven-song set in just under an hour and a half, with almost no breaks. Since this show took place pre-Sublime (the album), most of the songs that made the group famous, such as "What I Got" and "Santeria," are not included. The only tracks from the then-upcoming album are "Garden Grove" and a sloppy rendition of "Caress Me Down," which was still a work in progress at that point. A relaxing but melancholic "Badfish," from the band's debut, 40 Oz. to Freedom, is one of the highlight performances of the night.
The footage, shot with one handheld on Hi8 video camera, looks super-old-school and gives you the feeling that you're watching your own home video of the show. Despite the lo-fi nature, the audio quality is great, and the cameraman took the time to film Gaugh just as much as the other members, with many extended periods of up-close drumming. Advertisement
3 Ring Circus shows just how unusual and unorthodox Sublime was, though their cover of the Bad Brains' "House of Suffering" reminds us of that band's influence on them. Like Bad Brains, Sublime would expertly weave in and out of totally dissimilar genres, starting off with a slow reggae flow, and then abruptly switching to frantic punk—inciting a riotous mosh pit from concertgoers—then returning to a comfortable wave of reggae. With the group's hefty bassist smoking a fat cigar throughout and a shirtless Nowell jumping around constantly—at times forgoing the guitar strapped to his back so he can rock out—Sublime certainly had character. Fans of the group will even recognize their mascot, Bradley's Dalmatian Lou Dog, scurrying around on stage.
Bud Gaugh is tireless behind the kit, displaying his own hybrid style of reggae and rock, defined by his signature fills and much crashing with the snare on the 2 or 4. Clearly taking note of the unique methodology of reggae drumming, Gaugh often starts and ends fills with a crash, incorporates nuanced and delicate 16th-note hi-hat accents, and fills empty spaces on slower numbers with creative stickings. Always a busy drummer, Gaugh is constantly working the hi-hat in interesting ways to add flavor and intrigue to his beats.
The drummer holds his own on the fast parts as well, with raging snare rolls and plenty of smashing crashes when the band kicks into high gear for their punk-inspired detours. A hard hitter, even during the mellow reggae grooves Gaugh bashes the snare with hard-rock zeal. While maybe not considered a "drummer's drummer" by some, Gaugh's combination of rockers, 2-Tone, hip-hop, hard rock, and punk would prove to be extremely influential on subsequent players working within a reggae-rock format. Advertisement
The footage here proves what a fervent following and promising future Sublime had, which for longtime fans—and those too young to have seen the original lineup—makes this video all the more bittersweet. 3 Ring Circus captures a special moment in the band's career. (Skunk)
Alex Fredkin