September 2013 Issue of <em>Modern Drummer</em> Featuring Dino Danelli of the Rascals
(on newsstands August 6, 2013)
On the Cover
Dino Danelli
Once upon a time, the Rascals were the coolest, most innovative American rock 'n' roll band—and they featured the scene's coolest, most innovative drummer. Today, forty years after their breakup, they've returned—and they're tearing it up.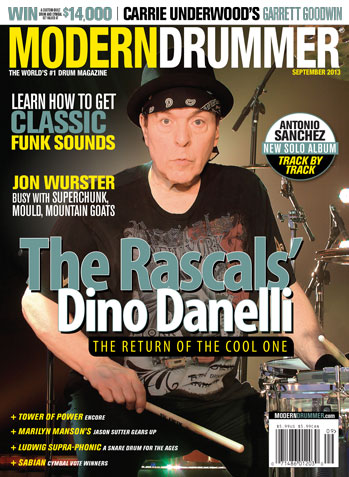 FEATURING
UPDATE
• The Aristocrats' Marco Minnemann
• Mission of Burma's Peter Prescott
Encore Tower of Power: In the Slot
So precise, so grooving, so in fluential. David Garibaldi and company's powerful sixth album is always ripe for analysis.
Portraits Arturo Stable
Whether he's collaborating with heavyweight jazz artists or leading his own unique ensembles, he's always respecting old ideas, and courting new ones.
Antonio Sanchez
The Pat Metheny/Gary Burton drummer has released the first album completely made up of his own compositions. Here he details the remarkable kit work found on each track.
Jon Wurster
The loyal Superchunk band member has also been a significant contributor of late to the music of Bob Mould and Mountain Goats. Meanwhile, his sharp comedic work gets props from all corners, including the Twitter followers at Rolling Stone.
Up & Coming – Carrie Underwood's Garrett Goodwin
Nothing about the 2013 MD Readers Poll Up & Coming winner is predictable—including his route to success.
What Do You Know About…? Big Country's Mark Brzezicki
From working in a rhythm section for hire to scaling the top of the charts to backing the biggest names in rock, he's experienced all the highs—and also some of the lows— that a thirty-year career in pop music brings. Advertisement
EDUCATION
Strictly Technique
Playing the Sixes Part 2: Speed and Orchestration
Rock 'n' Jazz Clinic
The Odds Are in Your Favor Three-, Five-, and Seven-Note Fills
Rock Perspectives
Double Bass Workout Part 2: Grooves
Jazz Drummer's Workshop
Approaching Standards A Framework for Musical Practice, Part 1: Phrasing
In the Studio
Seeing Sounds Part 3: Funk
PRODUCT CLOSE-UP
• Sabian Cymbal Vote 2013 Winners
• Rochefort Custom Drumset and Snares
• Dixson Bass Drum Lift
• Liverpool Brazilian-Made Drumsticks
• Acoutin Custom Metal/Wood Snare Drums
GEARING UP
Marilyn Manson's Jason Sutter
Shop Talk
Ludwig Supra-Phonic Snare
New and Notable
DEPARTMENTS
AN EDITOR'S OVERVIEW
Know Your History by Michael Parillo
Readers' Platform
Ask a Pro Pete Lockett, Inside Methods, Narada Michael Walden
It's Questionable
• How Should I Tune My Snare?
• Mind Matters: Is Sexy Stage Wear Necessary?
Showcase Featuring Drum Market
Critique Taking the Reins
Backbeats The Common Thread Clinic Tour
Kit of the Month Clad in Plaid
and more!