Producer/Songwriter Marti Frederiksen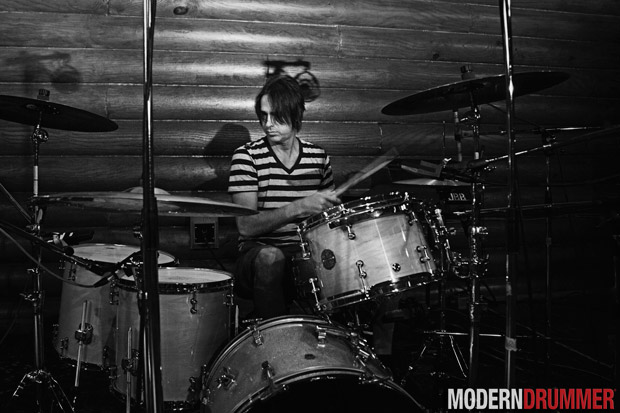 Hi, I'm Marti Frederiksen. I'm a songwriter, producer, and singer, but most of all I consider myself a drummer. It's great to be here representing for Modern Drummer magazine.
I'll never forget the day my dad brought home a drumkit from a swap meet. I had always been tapping and banging my feet on my school desk, the dinner table, and anything else I could play a beat on, but this was it. I immediately started teaching myself "Fire" by Jimi Hendrix. I never had formal training or lessons. I would just copy my favorite drummers, like Mitch Mitchell and Keith Moon.
My favorite drumkit was a red sparkle Ludwig that SIR loaned me for an iHeartRadio Show in Vegas. I played with Steven Tyler on vocals, Sting on bass, and Jeff Beck on lead guitar. That was pretty great! That was one of the highlights of my career.
My favorite moment, though, had to be playing on The Johnny Carson Show for Belinda Carlisle. I was young, and it was just surreal. The funny thing about it is that I had a night job at a bank I had to go to after that, so the celebration was cut short. Advertisement
Recently I've been writing a lot of songs. I co-wrote the new Julian Lennon single, called "Someday." A lot of people don't realize how much playing drums helps songwriting. You're just able to know where to put words in the pocket and phrase certain things. Also, it helped with knowing how to build up to a chorus, when to break, and when to just knock them over the head.
My son, Evan, has picked up the drums just like me. Dave Grohl, who is his idol, influences him, and he plays just like him. Look out for his name someday in Modern Drummer!
To watch "Sweet Emotion" 
live at iHeartRadio Music Festival, check out the clip below.