Donagh O'Brien of Sweet Jane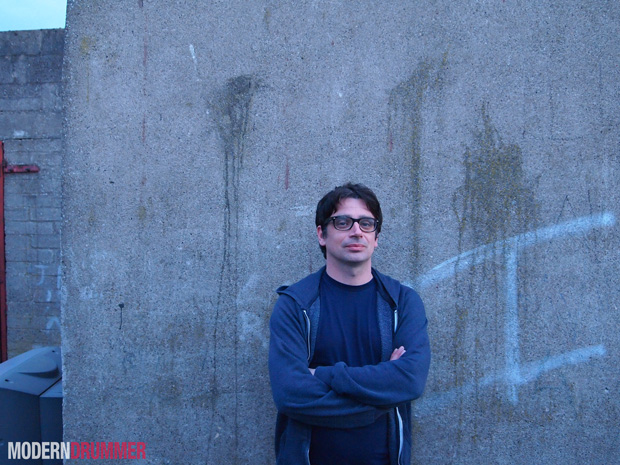 Hi! My name is Donagh O'Brien, and I play drums in Sweet Jane from Dublin, Ireland. This is a very exciting time for our band as we are gearing up to release our second album in September. Pat McCarthy, who's worked with REM among many other bands I love, produced the album. We cannot wait to share it with the world. We are also looking forward to a very busy touring schedule for the next few months, including a number of dates in the UK with the Besnard Lakes.
I've been playing drums since I was about thirteen, minus a few years when I went on a sabbatical in my twenties. I have a range of influences and drummers from whom I've borrowed fills from, such as former Tom Petty drummer Stan Lynch, Murph from Dinosaur Jr, and my all-time-favorite Stewart Copeland of the Police.
I play a Tama Starclassic Birch/Bubinga kit and use Paiste 2002 and Rude series cymbals. My use of Tama and Paiste is partly influenced by Copeland but also because they sound great. My Paiste 2002 13″ hats, for example, sound amazing and get better with age. I also favor Pro-Mark sticks because they can take a hell of a lot of abuse. Advertisement
I broke my right thumb quite badly last October. I was carrying a very heavy guitar amp from our van to our rehearsal space when I slipped on a wet patch on the ground and fell very awkwardly onto the amp. Next thing I knew, my hand had swollen up like a balloon, and my thumb was flapping about uncontrollably. When I got to the hospital, I found out that I would need to have surgery and would be out of action for some time. The injury came right in the middle of a busy period of touring and promo for the band. We had some good momentum going. But there's never a good time to get injured, right?
I recently saw a documentary on TV about Motörhead. Phil "Philthy Animal" Taylor recounted a story whereby he had broken a few fingers in a drunken brawl but proceeded to play the rest of the tour with his drumstick taped to his hand. I would have tried this if I didn't have to wear a large plaster cast. There were times when I wondered if I would ever play again. Of course, being right-handed, this injury had many other implications for my daily life, too.
Ten weeks later, I got the plaster off and went straight back behind my drumkit. I hope this story gives hope to any drummer who temporarily loses the use of one or both of their limbs. Bones heal, and the world keeps turning. You just have to keep on rockin'. Advertisement
For more on Sweet Jane, visit www.breakingtunes.com/sweetjaneofficialsite, www.reekus.com, and www.twitter.com/wearesweetjane.