Darren Weiss of Papa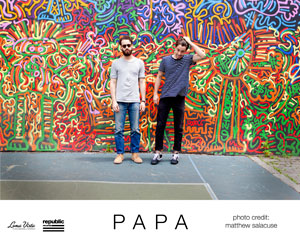 Hey everybody! It's Darren Weiss here from Los Angeles, CA. I sing and play drums for Papa.
We released our debut EP, A Good Woman Is Hard To Find, in 2011, and since then have been touring with bands like Grouplove, Of Monsters and Men, Temper Trap, Ra Ra Riot, and Lord Huron.
We've recently previewed the songs "Put Me To Work" and "If You're My Girl, Then I'm Your Man," from our up coming full-length record, due out this fall on Loma Vista Recordings.
I started touring at the age of seventeen in a punk band called Wires On Fire. Throughout the course of my travels, I have become more and more interested in jazz and other forms of fine art. I began to study with Peter Erskine and decided to leave my hometown for New York City to study literature and play different forms of music. It was there that I began to perform under the name Papa. Levon Helm has always been one of my main—if not my most important—musical influence, and he was in many ways the catalyst for me to lead a band as a singing drummer.
When I moved back to Los Angeles after graduation, I began to work more in the studio as a session drummer. This led to a call to work with the San Francisco-based band Girls. After playing on their album Father, Son, Holy Ghost, I toured the world with them for the better part of a year under the condition that they would take Papa out as the opening act.
Once that cycle was completed, Papa began to tour on its own, making a name based on the reputation of our live show.
While touring on and off, we had been writing and recording the material for what would make up our debut LP, which we recorded here in Los Angeles. It's a diverse album, an honest retelling of the perspectives and perceptions of us as young artists traveling the world. We worked on the diversity of the album in the same way I work on the diversity of my drumming. Growing up, I never focused too much on one style of playing. I used to practice along to the radio, changing the station only during commercials, playing along to any song or groove that caught my ear. I think it's that same openness that has allowed me to move freely as an artist from playing punk shows in tiny basements across the country to redeveloping my craft with a great jazz drummer like Peter Erskine to my more recent work with producer T Bone Burnett. Advertisement
For more, visit www.facebook.com/Papatheband.
Darren is on the left in the photo.