Claude Coleman Jr.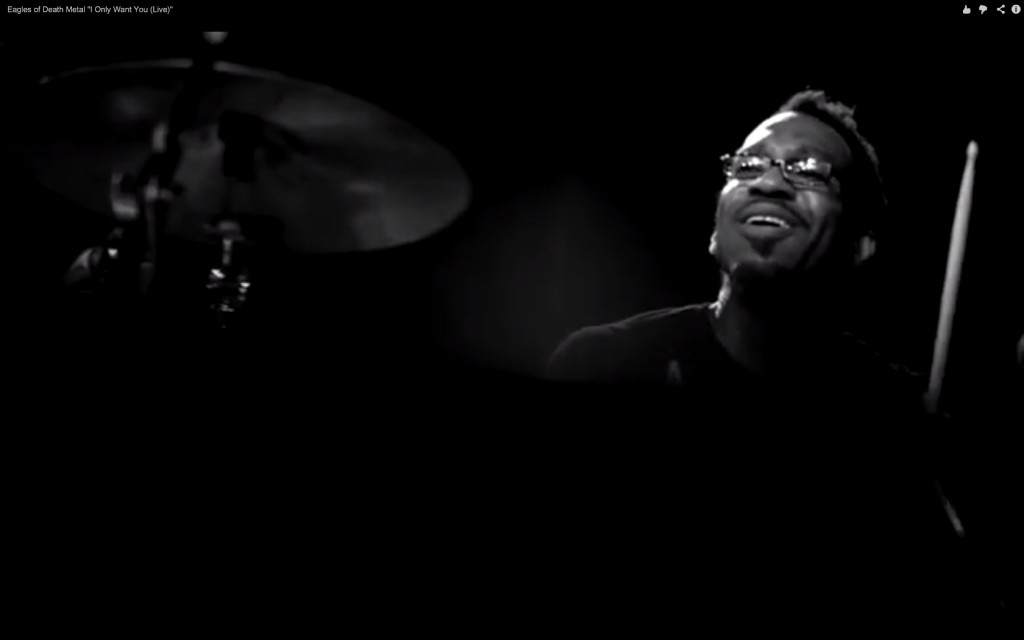 My name is Claude Coleman Jr. I have been the drummer for Ween for the last twenty years. I'm currently drummer for Eagles of Death Metal, as well multi-instrumentalist for my own group, Amandla, for which I'm about to record my third record.
I've been drumming since the Christmas when I was eight years old, and I told my mother if she couldn't get me a drumset for Christmas, I didn't want anything at all. It worked! And since that moment I've been forever possessed by music, art, and expression, which has led me to countless and still ongoing musical adventures.
Being the drummer in Ween has been a blessing beyond so many levels, the greatest of which was being able to create and perform with the greatest personal musical inspirations in my life, who I place in the company of all the greats through time. It's been a living fantasy to be so inspired year after year, like back in the day when the great bands would do brilliant release after unstoppable brilliant release, but in this case, it was my band. Advertisement
In fact, I would say that most of the work and artists I've shared stages and studios with have been some of the greatest creative and inspirational forces in the world to me.
Also, because being in Ween was like being in every band, and the music was just about every kind of music, I was able to create and perform in every style imaginable, all of which are a part of my personal musical palette and vocabulary. Since the band came to an end, I've had to keep three or four projects going to have this same musical output! All of this incredible and often radically different music was prevalent in my life in one place for many years.
Performing in Eagles of Death Metal has been incredible and satisfying to the same intense degree. I get to be with old friends who share the same passion and graciousness for what they do, and I get to perform some of my favorite music out there today. It's just an exceedingly joyous and fun experience, and then you get to rock the snot of the drums!
What I really love about EoDM is playing Josh Homme's drum parts. He's a killer drummer—snappy pocket, total Charlie Watts thing. Groovy as hell, and wildly inventive and creative with his parts and fills. Some of my favorite drummers are "non-drummers" like Homme, Dean Ween, Steven Tyler, Paul McCartney, Stevie Wonder—Chaka Khan! Advertisement
With Amandla I perform on all the instruments in the studio, and front the band live on guitar. I've been playing guitar almost as long as I've been playing drums, and have been a working bass player as well. I'm actually way more of a guitar geek than drummer geek and can talk pedals, instruments, and amps all day. I love playing guitar and fronting a band—you don't muck up your nice clothes as much as you do drumming!
Amandla is my true passion, as it's my songs and my voice, and with this next record—my third—I will be creating my strongest. It all gets better and better, as it should! You should never stop learning, nor should you stop striving. Expression in music—expression in drumming—should be as dynamic and boundless as the universe, and with the same ceaseless energy. The f-holes tattoo on my back is very real and personal for me. My body is the conduit for all of this creative energy—and I have no plans to ever stop!
For learn about Coleman's new Amandla album fundraiser, go here. Check out Claude's blog here, and follow him on Facebook here.