An Evening with Steely Dan's Keith Carlock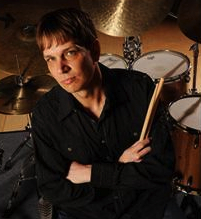 An Evening with Steely Dan's Keith Carlock will take place Tuesday, November 5, 2013 from 7:30 pm to 9:00 pm at the Huntington Cinema Arts Centre in Huntington, New York. Carlock has recorded and toured with such musical luminaries as John Mayer, Sting, Steely Dan, James Taylor, Diana Ross, and Rascal Flatts. He is currently on tour with Steely Dan. Keith was voted top pop drummer, top fusion drummer, and top all-around drummer in the 2009 Modern Drummer Readers Poll.
The evening will begin with a clinic with Keith behind the kit. That will be followed by a question-and-answer session and a one-on-one interview with Keith where he will delve into what inspires and motivates him and who his greatest influences are, and he will share some insight as to what it is like making a living as a session, teaching, and touring drummer. Keith will discuss what it is like to record and tour with some of music's biggest stars.
Access to a meet-and-greet photo session will be available for additional purchase.
For tickets and more information, visit www.LIDrumEx.com.
Photo by Rob Shanahan