Young Classics Custom Drum & Cymbal Giveaway Contest
Presented By RBH Drums And TRX Cymbals
In Conjunction With Gibraltar Hardware, Audix Microphones,
The Black Widow Drum Web, Cympad And Modern Drummer Magazine.
Enter today to win your own, custom-built RBH drum and TRX cymbal set along with
state-of-the-art hardware and accessories in a Grand Prize package totaling over $14,000.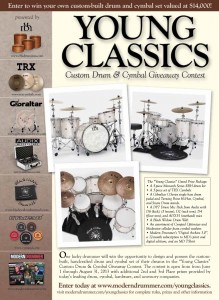 Several of today's leading drum, cymbal and accessory companies have joined together to present the "Young Classics" Custom Drum & Cymbal Giveaway Contest. The promotion runs from June 1 through August 31, 2013 with one randomly-selected Grand Prize winner able to choose any 5-piece, handcrafted RBH drumset and 5-piece handcrafted TRX cymbal set they desire. Also contributing to the $14,000 Grand Prize package, as well as 2nd and 3rd place prizes, are Modern Drummer, Gibraltar Hardware, Audix Microphones, The Black Widow Drum Web and Cympad.
The "Young Classics" Grand Prize includes:
• The winner's choice of a 5-piece Monarch Series drum kit from the RBH Drum Co. Acclaimed as "a flawlessly made drum that produces a deep, dark tone with a nearly limitless tuning range", the Monarch Series is much more than merely a replica of the classic drums from the 1930's, 40's and 50's it is based on. While the 100% handcrafted drums feature the legendary mahogany-poplar-mahogany shell formula, their use of today's finest materials and craftsmanship significantly improves on the original recipe. (www.rbhdrumsusa.com) Advertisement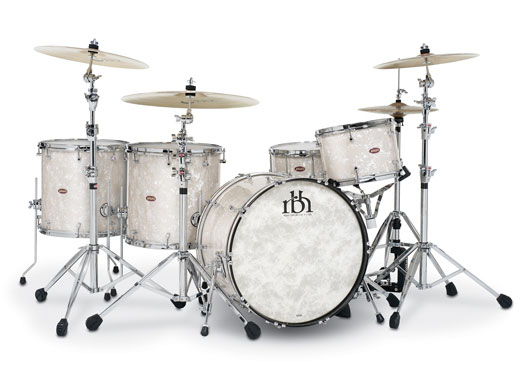 • The winner's choice of a 5-piece set of premium-quality TRX Cymbals. Taking the ancient art of cymbal making in bold, new directions, TRX offers hand-made, genuine Turkish cymbals in a full spectrum of dark, medium and bright sounds designed for a new generation of modern drummers. (www.trxcymbals.com)
• Gibraltar Hardware's innovative 9711-GS G-Series single bass drum pedal and groundbreaking "Turning Point" hardware, including the 9707TP-DP "Direct Pull" Hi-Hat, 9709TP Boom Cymbal and 9706TP-UA "Ultra-Adjust" Snare Drum stands. These heavy-duty yet lightweight Gibraltar stands incorporate a host of drummer-designed upgrades, such as keyless memory locks, lockable gearless tilters and "L-Bar" aluminum legs. (www.gibraltarhardware.com)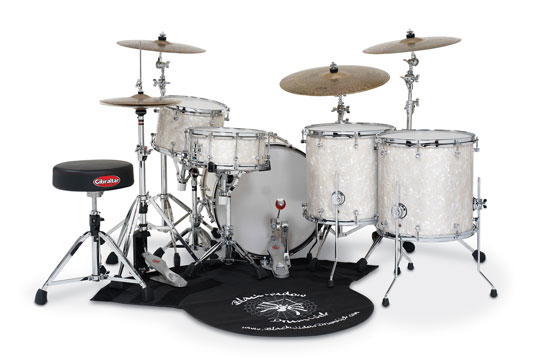 • Audix Microphones' DP7 Drum Pack, which provides seven essential microphones that cover a wide variety of any modern drum kit configurations. This collection of complementary dynamic and condenser mics features industry standard models for kick (D6), snare (i5), rack toms (D2), floor tom (D4) and overheads (ADX51). The DP7 also includes holders, mounts and a rugged aluminum road case for storage or transport. (www.audixusa.com) Advertisement
• A Black Widow Drum Web. The revolutionary Black Widow combines a heavy-duty yet lightweight polyester material with a spider-like web of super-gripping Velcro™ to securely anchor bass drum and hi-hat pedals and prevent the entire drumkit from creeping or crawling. In addition, the Widow folds up in seconds and travels in its compact, convenient carrying bag. (www.blackwidowdrumweb.com)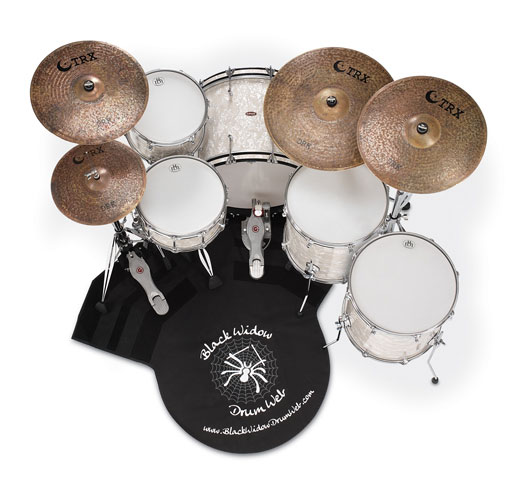 • An assortment of Cympad's most popular Optimizer, Chromatic and Moderator cellular foam washers for crash, ride, effect and hi-hat cymbals. Used by today's leading players, Cympads allow drummers and percussionists to consistently and effectively "Optimize their cymbal sound". (www.cympad.com)
• Modern Drummer's "Digital Archive 3.0", which contains every interview, article and educational column published in the world's leading drum magazine from 1976 to 2001, along with a 12-month subscription to both the print and digital editions of Modern Drummer magazine and an MD T-Shirt. (moderndrummer-com.go-vip.net) Advertisement
VOTING IS NOW CLOSED FOR THIS CONTEST. THANKS FOR THOSE WHO ENTERED. THE WINNERS WILL BE CONTACTED SHORTLY.