Milwaukee's Summerfest Partners With School of Rock to Showcase Aspiring Musicians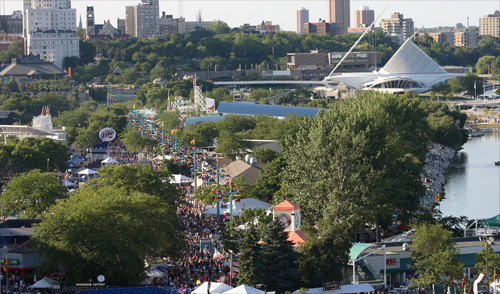 Every aspiring musician's dream is to perform live on stage in front of thousands of people—and better yet, at a music festival that brings together the industry's hottest stars. This summer, School of Rock is giving hundreds of students a chance to play on stage in Milwaukee at what is recognized as "the world's largest music festival." Young musicians from around the country will have the chance to compete in a School of Rock battle of the bands at Summerfest.
Thirty bands comprising more than 200 student performers will participate in the GEMBA competition at Summerfest on June 29 and 30. The School of Rock student performers hail from fifteen states: Texas, Illinois, Indiana, New Jersey, Pennsylvania, New York, Tennessee, Florida, Nebraska, California, Oregon, Washington, Ohio, Kansas, and Delaware.
The performances will be judged by well-known musicians; tentatively scheduled are Slim Jim Phantom (Stray Cats), Earl Slick (David Bowie), Jim Peterik (Survivor, Ides of March), Bruce Kulick (Kiss), Metal Mike (Rob Halford), Eric Bloom (Blue Öyster Cult), and Nathan Willett and Matt Maust (Cold War Kids). The competition will take place on Saturday, June 29, and Sunday, June 30, at the Harley-Davidson Roadhouse, Uline Warehouse, and U.S. Cellular Connection Stage. The top bands will then battle in the finals at the BMO Harris Pavilion on Sunday, June 30. Advertisement
The competition will give students the opportunity to show off their skills for a chance to be named "the best band in the land" in front of thousands of concertgoers. School of Rock creates a supportive and motivating environment that inspires its students to rock on stage and in life. By hosting the battle-of-the-bands event called GEMBA, which is a Japanese word for the "real place," students will have the ability to share their talents with a live festival audience.
Visit Summerfest.com and download the mobile app presented by Boston Store for iOS and Android to make your own custom Summerfest lineup, including the School of Rock performances.
About Summerfest
Summerfest 2013 will take place June 26–30 and July 2–7. Following its 1968 debut, Summerfest has evolved into what is now recognized as "the world's largest music festival" and Milwaukee's cornerstone summer celebration, bringing the music industry's hottest stars, emerging talent, and local favorites, along with approximately 900,000 people from Milwaukee and around the world. During the festival, there are more than 800 acts, more than 1,000 performances, eleven stages, food and beverages, and interactive activities, all in a world-class festival setting. For more details, visit Summerfest.com, Facebook.com/summerfest, or twitter.com/summerfest.
About School of Rock
School of Rock gets kids and adults rocking out and performing with their peers. With more than a hundred locations in seven countries, the franchise proves that rock & roll is alive and kickin'. For more information about franchise opportunities, visit franchising.schoolofrock.com/ Advertisement