July 2013 Issue of Modern Drummer featuring Carter Beauford
(on newsstands June 4, 2013)
On the Cover
Carter Beauford
A gentler, more mature Carter Beauford? Well… He might be reining in the notes on record these days, but live, the Dave Matthews Band drummer is still letting it all hang out.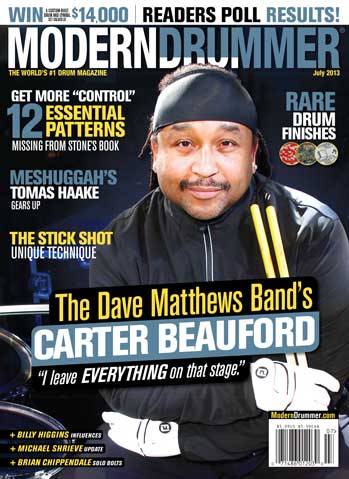 FEATURING
UPDATE
• Original Santana drummer Michael Shrieve
• Arejay Hale of Halestorm
Shop Talk
The Good, the Bad, and the Ugly The Roaring Twenties brought unprecedented color to every aspect of American culture—including drumset finishes. Here's a glimpse at that explosion of style.
Influences
Billy Higgins His playing worked perfectly in musical situations ranging from the reserved and traditional to the bold and brazen. And he always stayed true to himself.
2013 Modern Drummer Readers Poll Results
The top players of today, as voted by the most educated drummers on the planet. (Psst: That would be you!)
From the Past Classical Roots, Part 4: Harry Partch
An iconoclast of the highest order, he dispensed with traditional notions and created his own sonic universe.
Portraits
Brian Chippendale Lightning Bolt's drummer holds legendary status among fans of the raw, confrontational wing of indie rock. So why is he so interested in copping Rihanna beats these days?
EDUCATION
Strictly Technique
The Missing Stickings 12 Essential Patterns Not Included in Stick Control
In the Pocket
Funk Drumming Training Camp Part 3: Originality and Flow
Rock 'N' Jazz Clinic
Double Bass Fills Overlapping Into the Next Phrase, Part 2
Jazz Drummer's Workshop
The Stick Shot A Unique Technique for Ultimate Articulation
In the Studio
Seeing Sounds Part 2: The Deep, Fat "Thud"
EQUIPMENT
PRODUCT CLOSE-UP
• RBH Drums Monarch Drumset
• Vic Firth Shogun Series and Carter Beauford Signature Drumsticks
• Black Widow Drum Web
• Ego Drum Supply 6×14 Single-Ply Myrtle Snare
• Bosphorus Black Pearl Series Cymbals Advertisement
GEARING UP
Meshuggah's Tomas Haake
New and Notable
DEPARTMENTS
AN EDITOR'S OVERVIEW
Believe in You! by Billy Amendola
Readers' Platform
Ask a Pro Stephen Perkins, Bill Stewart
It's Questionable
• L&S Basement Bass Drum
Showcase Featuring Drum Market
Critique Taking the Reins
In Memoriam Herb Brochstein
Kit of the Month Hale, Animal!
and more!