Josh "Chachi??? Marunde of Pop Evil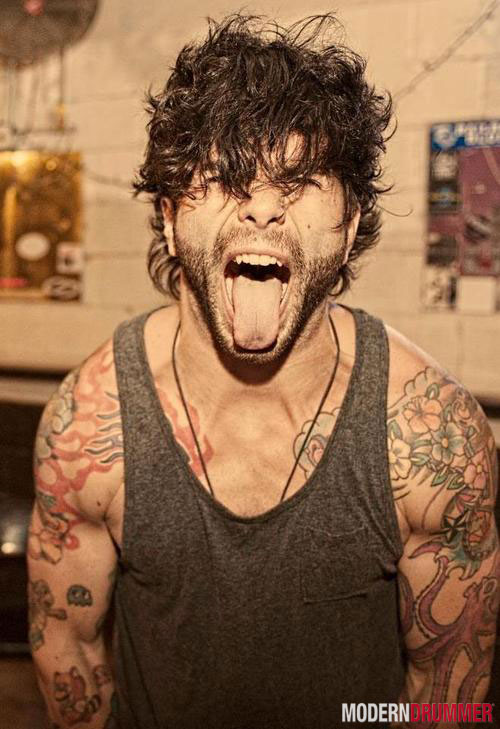 Hey, everyone! My name is Josh "Chachi" Marunde, and I'm the drummer of the rock band Pop Evil. I want to thank MD for this opportunity. There are so many fantastic drummers out there, so this is a great honor.
I've been blasting skins for a little over six years now. I've performed 1,000-plus shows in forty-plus states and five different countries. We tour extensively, performing 500-plus shows over the duration of the last two years. I hope to do nothing but add to this list as time goes on. We have had seven top-twenty singles on "active rock," four of which landing in the top ten.
I love performing live. The energy, the performance, the raw and spontaneous emotions make each and every show, every song, every note unique and special. It's music at its finest. Music is described as "art over time" and on a recording, it sounds the same every time you listen to it. But live, every show is special and unpredictable. I love it. It sometimes saddens me at how some of the more "modern" approaches to recording have lost sight of some of what's most important in music. Advertisement
Music has always been a very predominant part of my life. My family has a very diverse taste in music, which I've adapted and expanded. I listen to and enjoy everything from Aerosmith to Zappa, from the Kinks and the Beatles to Kanye West and Garth Brooks. To me, music is about groove. If it's got a beat, I'm more than likely into it.
The first drummer I ever saw that made me want to play drums was Blas Elias, formerly of Slaughter. It looked fun, and that's why I got into this business. I'm proud to say I love my "job," and every second of my life is fun.
I proudly play Ludwig drums and Meinl cymbals. I'm a Midwest kid, growing up just thirty-five minutes from the Ludwig offices, so that fact, partnered with my love of Bonham, made my choice of drums a no-brainer. Advertisement
Lastly, I want to really emphasize to youngsters to dream the impossible and don't just wish for it—work for it. You can accomplish anything if you work hard enough. Support music of all genres, keep yourselves educated, and have fun! Thank you.
For more on Josh Murunde and Pop Evil, visit them on YouTube and or facebook.com/popevil.