Fork's Drum Closet and Mapex Support Musicians Corner

Fork's Drum Closet and Mapex teamed up to support the Musicians Corner Music Festival in Nashville, TN. Since 2010, the festival has created a global music landmark and community gathering space in Centennial Park, where musical performers can illustrate the diversity, passion, and fellowship associated with Music City. Performances can vary from the Delta Saints to Street Corner Symphony.
"We feel it is our duty to support live music activities here in Nashville and the musicians who perform at them," says Gary Forkum, owner of Fork's Drum Closet. "It's more than just supplying a great drumset and hardware for these drummers to use; it is showing them that we care about the music they play and how they sound."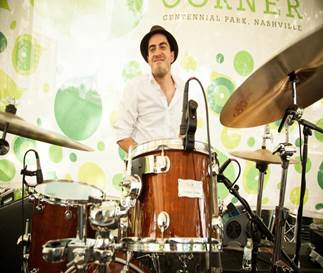 Musicians Corner is a free, open-to-all, central-point location where people can gather to enjoy music. "Mapex Drums is honored and proud to have a Saturn set and hardware on stage at this amazing live music activity here in Music City," says Joe Hibbs, brand manager for Mapex. Advertisement
Musicians Corner happens every weekend through June 25 in Centennial Park, Nashville.
To learn more about Musicians Corner, visit musicianscornernashville.com.